A LEGENDARY BROADWAY MUSICAL
by Dennis Razze
It's hard to believe that A Chorus Line was first produced in 1975 and ran for an astonishing 6,137 performances at the Shubert The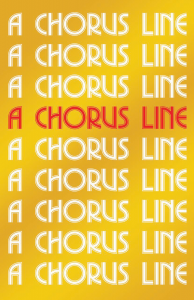 atre. It's hard to believe because in many ways it seems to fresh and vital today.
Thousands of talented young people still flock to New York each year with the hope of landing a role on Broadway. During the past few years of the pandemic, large group auditions like the one we witness in A Chorus Line have not been common, and have been replaced by self-taped auditions, Zoom auditions, and small group dance calls. Most likely the large group dance auditions of the kind we see in A Chorus Line will return as conditions improve. Still, the excitement of seeing these two dozen hopeful performers literally put themselves "on the line" to win a part in a Broadway musical speaks to any person who aspires to succeed and be part of something that is bigger than themselves.
The genesis of A Chorus Line is the stuff of Broadway legend—and like most legends there are different accounts of the origin of the work an
d what transpired. The origin of the idea for A Chorus Line and who contributed what to the final script spawned multiple lawsuits. Suffice it to say that the show was
born from late night sessions from midnight to sunrise during which a group of dancers were asked questions and told stories about their lives. These accounts were recorded on audio tape, and it was these recordings that formed the basis of the stories told by the dancers in the musical. Some of the stories in the show are almost verbatim from the actual accounts that were recorded.
The show was birthed at The Public Theatre under the auspices of the New York Shakespeare Festival produced by the indomitable Joseph Papp, and the profits from A Chorus Line supported the artistic work of The Public Theatre for several decades. Director-choreographer Michael Bennet
t was the genius behind the creation of the musical and he—along with co-choreographer Bob Avian—brilliantly staged the show to the incredible score by Marvin Hamlisch, with lyrics by Ed Kleban. Bennett was one of musical theatre's great "director-choreographers" (the title given to those artists who both directed and choreographed a musical).  Director-choreographers are an elite group and include such artists as Jerome Robbins, Bob Fosse, Gower Champion, Graciela Daniele, Tommy Tune, and Susan Stroman.
Currently, A Chorus Line is garnering a resurgence of new productions being performed world-wide. I believe A Chorus Line speaks with a fresh voice to us today because it continues to be so challenging to have live performances during the pandemic and in this transition to a post-pandemic world.
In a world where close personal contact might literally risk putting your life on the line, the desire to perform – especially for a singer and a dancer – achieves new resonance as we confront our fears and weigh the risks. True performers are accustomed to risk, and the sheer joy and the lyric "what I did for love" makes it all worth it and is what makes them feel truly alive. In a larger context, all of us need purpose in our lives and all of us aspire to achieve goals, and like those Broadway hopefuls we can truly relate when they sing "I hope I get it!" and "I really need this job."
One of the themes of this show is how these individual dancers must lose their individual identities when they become an anonymous part of the chorus line. On the surface that loss might seem dehumanizing and even sad. However, their sacrifice produces a sum that is greater than its parts and is evidence of what human beings can accomplish when they work together toward achieving something.
Perhaps a more relatable example is what we experience when we watch star athletes—who each have their special talents and egos—work together and become a team. We know they are all individually talented but seeing them work together and win is a thing of beauty. A Chorus Line celebrates those moments when human beings achieve something working together and in doing so, they achieve victory, both personally and as a team.
PSF had hoped to produce A Chorus Line in 2020, but that season was sadly curtailed by the pandemic. Now in 2022, PSF is finally getting to realize the dream of producing this musical masterpiece. A few of the cast members were originally cast in 2020, but most of the cast for 2022 are new.
The biggest change is our choreographer. For 2022, Luis Villabon will recreate the iconic Bennett choreography—something he certainly knows in minute detail as he has had a long personal and professional relationship with A Chorus Line. I could not be more thrilled to be working with Luis on our production and in the process of our collaboration I am learning so much about the show, its history and its traditions, as well as the myriad details that make it unique among the pantheon of musical theatre.
Luis has a long relationship with the show, having played the role of Paul in 13 different national and international tours, performing that role in nearly 2,000 performances. He has coached Antonio Banderas, who played the role of Zach in a production of A Chorus Line in Málaga, Spain. This was one of several times when Luis was the associate choreographer with Baayork Lee, who played the original Connie on Broadway. Baayork is one of the greatest living authorities on the show, having learned the choreography directly from Michael Bennett.
Luis has such incredible vitality and energy, which you witness each time he demonstrates a signature Bennett dance move. He is incessantly busy—before the PSF production, Luis will be choreographing A Chorus Line at the Laguna Playhouse in California this spring.
I am also thrilled to be working with Richard Latta, who will design the lighting for PSF's production of A Chorus Line. I became acquainted with Richard after seeing a terrific production of Ragtime at the Ogunquit Playhouse in Maine, where he is the resident lighting designer. We are very fortunate that his schedule there was perfectly timed such that we could hire him to design A Chorus Line this summer here at PSF.
The lighting of the original production of A Chorus Line was designed by Tharon Musser. Her lighting of A Chorus Line has been hailed as one of the great theatrical design achievements of modern musical theatre. Notably, it was the first musical to be controlled by computer, which allowed for complex cueing and split-second transitions.
Another newcomer to PSF is musical director and conductor Andy Peterson. Andy hails from "down under" and has worked on Broadway on Tootsie as well as being a noted composer of Razorhurst and Stalker: The Musical. He was also the co-creator on the hit musical audio series The World to Come, for which he wrote more than 50 original songs. Luis and I are very excited to have Andy on our team.
Finally, Luis, Patrick Mulcahy, and I—after many months of casting—have assembled an amazing cast for PSF's production of this groundbreaking show. Among the cast are many Broadway performers, as well as veterans of regional theatres and national tours, several of whom have previously performed in the show. I am happy to introduce some of the incredibly talented people you will see perform here at PSF this summer!