Producing Artistic Director Patrick Mulcahy welcomes you to, and shares new details about, our unique, something-for-everyone 2021 Summer Season. Watch the video and learn more.
---
The Season Announcement — April 5, 2021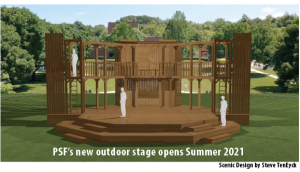 The upcoming season reflects the Festival's continued commitment to creating world-class professional theatre in the Lehigh Valley, and celebrates both the re-opening and the Festival's 30th anniversary. PSF has assembled an exciting and diverse summer line up featuring a beloved comedy by William Shakespeare on a new outdoor stage, Pulitzer Prize- and Tony Award-winning playwrights, a one-night-only concert with a Broadway artist, virtual performances, and a company of acclaimed actors and directors.
"In this time of extraordinary change, we have worked to re-open with a season that will be refreshing, a season that aligns with what is possible and what is needed," says Producing Artistic Director Patrick Mulcahy. "So many of us need to reconnect, have some fun, and experience the arts again.  And in support of our communities, of PSF's commitments, and our mission of reaching the widest possible audience, our season also aims to achieve greater diversity and inclusion."
________________________________________________________________________

The Overview – March 22, 2021
For those of you who love backstage tours and understanding the inner workings of a professional theatre, look forward to this Backstage series on all that is unique about restarting our summer theatre offerings this year, as the world around us becomes a safer, more vaccinated place.
As part of our Something for Everyone approach to attendance this season, we will promote safety and adapt to current and anticipated circumstances by making theatre available to you in three modes:
Indoors – enjoy solo or small-cast works in our Main Stage theatre for a limited, socially distanced audience.
Outdoors – experience our larger cast plays on a splendid new outdoor stage on the beautiful mall adjacent to the theatre. Out among the breezes, look for a Shakespeare play, our children's play, and a concert featuring a Broadway artist.
Virtual – for those of you who prefer or need to see our productions from the comfort of your homes, several of our indoor and outdoor offerings will be videorecorded in front of a live audience and then made available for viewing online, as will one or more play readings.
This abridged season will be announced soon, and will run from June 25th through August 1st.
In the coming weeks, look for more installments of Backstage at the PSF Re-Opening, as we share insights into how we select the plays, the design of our first-ever full outdoor productions, the myriad safety protocols we will follow, your patron experience of attending this year, and the process of working with Actors' Equity Association, United Scenic Artists, and the Society of Stage Directors this season.
We know you may have questions about exactly how all of this will work, and we will do our best to answer them in the coming weeks. We hope you will be patient with us as we learn together how to make this a wonderfully memorable 30th Anniversary season at PSF.  We also hope you will join us and that you will finally feel free to get out and see a play in a way that feels safe to you, or to let us bring the play to you.  Look for more information to come.
____________________________________________
Update: March 15, 2021
Dear Friends of PSF,
As winter turns to spring, and with the warmer months just around the corner, we are pleased to begin the process of sharing our plans for this summer.  Here's the first installment:
We ask ourselves how we can best serve this community. One answer is that we are determined to provide you with a robust, safe, refreshing, and enriching theatre experience this summer. Whether you will join us in our new outdoor space or indoors, in person or virtually, we are planning Something for Everyone!
Look forward to a brand new outdoor stage, as William Shakespeare may have envisioned it, for a Shakespeare play, our children's production, and a concert or two. In addition, our indoor Main Stage will once again be open for business, with productions modest in cast size but great in significance, with socially distanced seating, upgraded HVAC filtration, and other safety measures. We'll also offer productions and readings brought to you in the comfort of your home.
While we all know things can change, we anticipate them changing for the better, and we feel confident in our summer season plans.
Productions will run from late June through the beginning of August. Please look forward to more season announcements in the coming weeks, with a full Festival Guide and safety plans arriving in your mailbox and inbox, and the opportunity to purchase tickets starting in May. Stay tuned for more details.
This will be our 30th Anniversary Season!  And what a celebration it will be, to return to producing theatre on our stages and sharing in it with you. We look forward to welcoming you back to Pennsylvania Shakespeare Festival and we will keep you posted as we prepare for this time of reawakening, renewal, and rebirth.
Patrick Mulcahy
Producing Artistic Director
____________________________________________
A Message of Hope
Dear Friends of the Festival,
In addition to bringing with it a beautiful time of year, fall is normally the time in which we would announce our season for the coming summer, sharing with you our sense of excitement and anticipation for the selected plays and the enriching experiences they promise.
The great news is: PSF will return in 2021. "Yet it will come."
Amidst all the uncertainty, our aim is to plan a season you and we can count on, savor, and celebrate. We are attentive to taking enough time to make good decisions based on dependable information. We balance this with equal attention to the number of months we will need to prepare the season once those decisions are made. It's important that the season we announce and plan for is a season we can produce safely and reliably, for you, for us, for our artists and artisans. "The readiness is all."
We are deep in scenario planning for our 2021 summer season, envisioning a vibrant mix of indoor, outdoor, and online offerings. Something for everyone. Our mission is to enrich, inspire, engage, and entertain the widest possible audience. The very nature of a PSF season is to refresh and renew us all through world-class artistry, and this season will bring new delights and inspirations to you, your friends, your family, and our communities. And just as Hamlet notes that theatre artists are "the abstract and brief chronicles of the time," look for the content of our seasons going forward to also engage with you in the intersections and immediacy of past, present, and the anticipated future.
We'll be in touch in the coming weeks and months. For now, please join us in marking your calendars for the long-awaited return of summer breezes and the joyful inspiration of live, professional theatre at PSF. More to come…
Patrick Mulcahy
Producing Artistic Director