FOR IMMEDIATE RELEASE Contact: Tina Slak, 610.282.WILL [9455]
May 25, 2017 Tina.Slak@pashakespeare.org
Center Valley, PA—A brave young princess brings the warmth of healing to the cold in Pennsylvania Shakespeare Festival's The Ice Princess, an enchanting new adaptation of Hans Christian Andersen's classic tale, The Snow Queen.
Ideal for children ages 3 to 12, The Ice Princess runs June 2 to August 5 in the Schubert Theatre at the Labuda Center for the Performing Arts at DeSales University.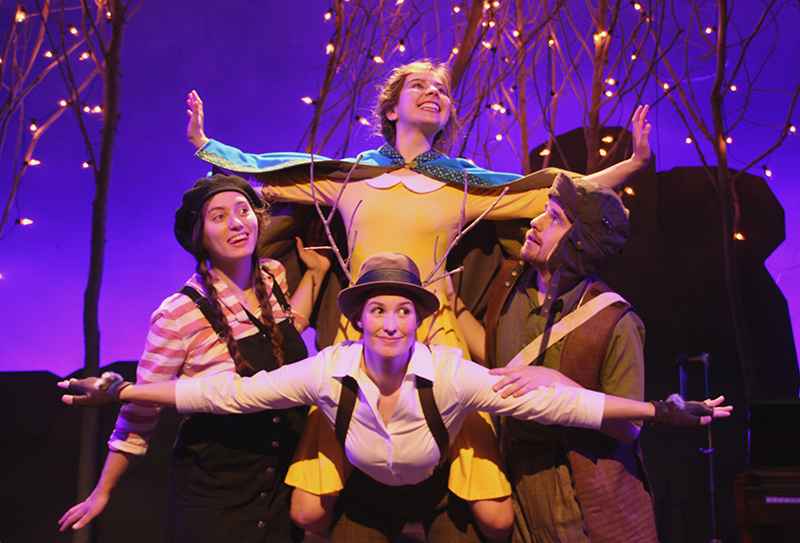 "This adaptation of Hans Christian Andersen's The Ice Princess truly has its roots in the power of theatre to transport an audience and engage their imagination," says director Pirronne Yousefzadeh. "The production captures the spirit of ensemble collaboration, in both the physical magic they are creating together as well as the use of new, original music, composed for the show by Liz Filios."
In this heartwarming tale Princess Gemma, played by Stephanie Hodge, and her brother and best friend Prince Kylan, played by Dane Lavery, discover a chilling magical power in the dazzling wintry woods.
Narrated by an adorable reindeer, played by Julianne Schaub, the story begins when Princess Gemma gains a bit of the Snow Queen's magical ability and discovers both the wonder and the heartache it can bring. Princess Gemma flies to the forest to find the Snow Queen who she hopes will help her save a loved one.
On Gemma's quest to find the Snow Queen, played by Illia Paulino, the Princess meets a game-playing Trickster (Dane McMichael), some sneaky robbers (Andrew Scoggin, Victoria Scovens, and Keri Ann Moynihan), and a tongue-tied troll (Michael Coval). With the help of her zany new forest friends, Gemma finds the Snow Queen, learns a valuable lesson, and finds the courage and strength to bring healing to her family.
With a fairytale surprise ending, Brandon E. McLauren's delightful new adaptation reminds the audience that determination, love, and devotion will warm even the coldest of hearts.
The Ice Princess cast also includes Bo Sayre and Emilie Gubler as the King and Queen; and Victoria Scovens and Ally Borgstrom as the Snow Queen's guards complete the cast. Award-winning director Pirronne Yousefzadeh makes her directorial debut at PSF with this production.
Steve TenEyck serves as scenic designer, Katherine Fritz as costume designer and Liz Elliot as lighting designer. Musical Director Liz Filios is the composer of the original music in the production, and the sound designer. The stage manager is Lizzie Nixon.
Children can get a front row seat for the fun with on-stage carpet seating and meet the actors after every performance for photos and autographs.
A lively theatre experience with great fun for everyone, the production will also feature a relaxed performance on Saturday, June 10 at 10am, and a sign-interpreted and audio-described performance on Saturday, June 29 at 10am.
Production sponsors are Steve and Jane Auvil and production co-sponsors are Dr. James and Penny Pantano. The Ice Princess runs June 2 to August 5 in the Labuda Center's Schubert Theatre. The show runs Tuesday through Saturday at 10am excluding June 6, 13, 20 and July 4 and 18. Additional 2pm matinee performances are July 28, and August 1, 2, and 3. Tickets are $12.50 for children 12 and under and $16.50 for adults.
To order tickets call 610.282.WILL [9455] or online at www.pashakespeare.org.
The Festival's 26th season also features Evita (June 14- July 2); The Hound of the Baskervilles (June 21- July 16); The Three Musketeers (July 12- August 6); As You Like It (July 20 – August 6); Troilus and Cressida (July 26 – August 6); and Shakespeare for Kids (July 26 – August 5).
One-night-only events include The Tenor Moments, an exciting evening of the most beloved tenor songs with Mike Eldred, recording artist, Broadway veteran, and star of PSF's 2015 production Les Misérables, on Monday, June 26 at 7:30pm; as well as Dee Roscioli in Concert, a fun, eclectic solo evening of Broadway, pop hits, and new original work with Broadway veteran Dee Roscioli, star of this season's Evita, on Monday, July 31 at 7:30pm.
The season sponsors are David B. Rothrock and Patrina L. Rothrock. Associate season sponsors are Harry C. Trexler Trust, Linda Lapos and Paul Wirth, and the Szarko Family.
About Pennsylvania Shakespeare Festival
Pennsylvania Shakespeare Festival, under the leadership of Producing Artistic Director Patrick Mulcahy, Managing Director Casey Gallagher, and Associate Artistic Director Dennis Razze, is the only professional Equity theatre of its scope and scale within a 50-mile radius. PSF is one of only a handful of theatres on the continent producing Shakespeare, musicals, classics, and contemporary plays all of which can all be seen in rep and in multiple spaces within a few visits in a single summer season. A patron would have to travel seven to nine hours from PSF to find a greater range of offerings at a single theatre within a few weeks' time.
The Festival's award-winning company of many world-class artists includes Broadway, film, and television veterans, and winners and nominees of the Tony, Emmy, Obie, Outer Critics Circle, Drama Desk, Jefferson, Hayes, Lortel, and Barrymore awards. A leading Shakespeare theatre with a national reputation for excellence, PSF has received coverage in The New York Times, The Washington Post, NPR, American Theatre magazine, and the Philadelphia Inquirer. "A world-class theater experience on a par with the top Bard fests," is how one New York Drama Desk reviewer characterized PSF.
Founded in 1992 and now the Official Shakespeare Festival of the Commonwealth of Pennsylvania, PSF's mission is to enrich, inspire, engage, and entertain the widest possible audience through first-rate productions of classical and contemporary plays, with a core commitment to Shakespeare and other master dramatists, and through an array of education and mentorship programs. A not-for-profit theatre, PSF receives significant support from its host, DeSales University, and from the Pennsylvania Council on the Arts. With 150 performances of seven productions, the Festival attracts patrons each summer from 30+ states. In 25 years, PSF has offered 161 total productions (69 Shakespeare), and entertained 850,000+ patrons from 50 states, now averaging 38,000+ in attendance each summer season, plus another 15,000 students each year through its WillPower Tour. PSF is a multi-year recipient of awards from the National Endowment for the Arts: Shakespeare in American Communities, and is a constituent of Theatre Communications Group, the Greater Philadelphia Cultural Alliance, the Lehigh Valley Arts Council, and the Shakespeare Theatre Association. In 2013, leaders of the world's premier Shakespeare theatres gathered at PSF as the Festival hosted the international STA Conference.
The Festival's vision is for world-class work.
PIRRONNE YOUSEFZADEH (Director, Ice Princess) has directed and developed new work at The Public/Joe's Pub, New York Theatre Workshop, Ars Nova, Soho Rep, Williamstown Theatre Festival, Actors Theatre of Louisville, La Jolla Playhouse, Huntington Theatre Company, Cleveland Playhouse, Geva Theatre Center, InterAct Theatre Company, and Hangar Theatre, among others. She is a Usual Suspect at NYTW, New Georges Affiliated Artist, member of Ensemble Studio Theatre, a recipient of SDC's Denham Fellowship and Williamstown's Sagal Fellowship, and an alumna of the Emerging Artist Fellowship at NYTW, Drama League Directors Project, and Soho Rep Writer/Director Lab. MFA, Columbia University. Member, SDC. pirronne.com
STEVE TENEYCK (Set Designer, The Ice Princess/Evita/Hound; Lighting Designer, Hound) Is pleased to return for his twelfth season at PSF. Design work for The Dallas Theatre Center, The Gulfshore Playhouse, Syracuse Stage, TACT NYC, Big Art Group, Tri-Cities Opera, Madison Opera, Syracuse Opera, Anchorage Opera, Minnesota Opera, Florida Grand Opera, Mill City Summer Opera, The Kitchen Theatre, Repertory Theatre of St. Louis, Hope on Stage and The Hangar Theatre. Steve is a member of United Scenic Artists Local 829 and teaches design at Ithaca College in New York.
ELIZABETH ELLIOTT (Lighting Designer, Ice Princess) Liz is thrilled to be back and designing for her tenth year at the Pennsylvania Shakespeare Festival! During the academic year, Liz is the resident lighting designer for DeSales University's Theatre and Dance Departments.
LIZ FILIOS (Composer, Music Director, Sound Designer, Ice Princess) is a Philadelphia based actor, musician and sound designer. She designed Pennsylvania Shakespeare Festival's WillPower Tour of Hamlet last fall. Regional: Arden Theatre, Wilma Theatre, Philadelphia Orchestra, Walnut Street Theatre, Lantern Theatre, Inis Nua, People's Light & Theatre, Chicago Shakespeare Theatre, Delaware Theatre Company, Act II Playhouse, Bristol Riverside Theatre, Applied Mechanics, Theatre Horizon, The Bearded Ladies Cabaret, South Coast Rep, The Joyce Soho, Cape Town Opera, and Teatro Avvaloranti. BFA Musical Theatre, University of Michigan.
KATHERINE FRITZ (Costume Designer, Ice Princess) is a costume designer, writer, and educator. Recent design work at Signature Theatre, Arden Theatre Company, Theatre Exile (Barrymore Nomination, Outstanding Costume Design), InterAct Theatre Company, Philadelphia Artists' Collective (Resident Designer, 7 seasons), among many others. As a writer, her work on her blogs Ladypockets and I Am Begging My Mother Not To Read This Blog has been critically acclaimed and read by millions. Publications include the New York Times, the Washington Post, American Theatre Magazine, and a regular column at MTV Style. This year, Katherine raised over $72,000 for education-based charities in a viral political stunt to "buy" her senator's vote. Her favorite role is as a teacher, where her curriculum combines theatrical design with collaborative, critical-thinking skills.
LIZZIE NIXON (Stage Manager, Ice Princess) PSF third season. Her past work includes I and You, The Road: My Life with John Denver, West Side Story, Henry V, The Taming of the Shrew, and Les Miserables.
STEPHANIE HODGE (Princess Gemma) PSF: Love's Labour's, Julius Caesar, Pericles, 80 Days, Little Mermaid, Rapunzel; Act 1: Crucible, Elektra, Bus Stop. Upcoming: Stephanie directs Act 3's Beauty & the Beast.
Dane Lavery (Prince Kylan) DeSales ACT I credits: Charley's Aunt (Charley) The Trial of Ebenezer Scrooge (Ghost of Christmas Future).
Julianne Schaub (Reindeer) a recent DeSales graduate. Act 1 credits: Harvey (u/s Ruth Kelly), How to Succeed in Business (u/s Hedy LaRue), Me and My Girl (Lady Brighton), Charley's Aunt (Amy Spettigue), and the Act 3 production of Peter Pan.
ILIA PAULINO (Snow Queen, Ice Princess; Ensemble) is a recent Musical theatre graduate from DeSales University. Credits: Ursula in The Little Mermaid (PSF) Queen in Rapunzel (PSF) and Featured Ensemble member in The Taming of the Shrew. She will also be pursuing a Master's Degree at the Yale school of Drama in the fall.
EMILIE GUBLER (The Queen) a recent DSU musical theatre graduate, Act 1 credits include The Crucible (Elizabeth Proctor), Me and My Girl (Lady Diss), and Little Women (Marmee).
James "Bo" Sayre (The King) a rising senior musical theatre major at DeSales University. He has previously been in several Act 1 performances at DeSales and in PSF's Julius Caesar, Love's Labour's Lost, Pericles, and Les Miserables.
MICHAEL COVEL (Troll) a recent graduate of DeSales University where he's earned a bachelor's degree in musical theatre. Prior to DeSales, earned an associate's degree in music from Montgomery Country Community College.
ANDREW SCOGGIN (Robber Dad) a Senior Musical Theater Major at DeSales University, first Season with PSF. DeSales Act 1 Productions: Young Frankenstein the Musical, The Crucible, The Homecoming: A Christmas Story, Showtune, Merry Christmas, George Bailey!, Bus Stop.
Keri Ann (Robber Girl) is a recent graduate from DeSales University theatre program.
ALLY BORGSTROM (Ice Woman) is a recent graduate of DeSales University. ACT I credits: Little Women (Jo), Me and My Girl (Jacqueline) and Young Frankenstein (Inga).
VICTORIA SCOVENS (Ice Woman 2, Robber Girl) is a transfer sophomore musical theatre major and is excited to be performing in her first production at Pennsylvania Shakespeare Festival.