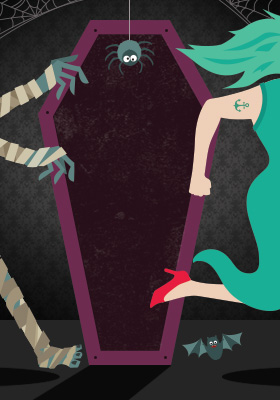 Side-splitting Haunted Hilarity.
By Charles Ludlam
Directed by Jim Helsinger
JUNE 20 – JULY 14 | SCHUBERT THEATRE
Lauded as "the funniest two hours anywhere" by The New York Times and "lunatic fun that keeps you in stitches" by The Daily News, this madcap mystery features werewolves, vampires, ghosts, and damsels in distress. In a parody of the gothic literary "penny dreadful" tradition, Charles Ludlam's spoof reaches from the eerie moors of England to the depths of an Egyptian tomb. A hilarious sendup of Victorian melodrama, this comedic, quick-change tour-de-force features an unforgettable cast of characters—all played by two actors—and promises to leave you breathless with delight. Ages 12+
The Mystery of Irma Vep – A Penny Dreadful is presented by special arrangement with SAMUEL FRENCH, INC.
Extras
Opening Night, Saturday, June 22: Join the PSF actors and staff for a friendly post-show champagne toast.
Meet the actors for an informal talk-back after the show: Thursday, June 27 and July 11.
Director's Dinner – specialty dinner themed to the play with behind-the-scenes insights: Saturday, July 13, 5:00pm.
Audio Described performance: Saturday, June 29, 2:00pm.
Explore
Lehigh Valley Press
"Too much fun…."
"Fascinating, self-contained, self-proclaimed, compact comedy of manners."
"Under Helsinger's 'hellzapoppin' direction, combined with Choreographer Stephen Casey, there's so much going on, at such a rapid pace, that you're laughing before your previous laugh subsides."
"Mullen and DePlanche throw their talent into each portrayal with abandon."
"Masterful…."
"DePlanche is a genius of the slow take, slow burn, sly turn of phrase and body."
"Mullen is a genius of the whip-smart, razor's edge, sharply-drawn tilt of head, angular body and drop-dead stare."
The Philadelphia Inquirer
"Vampires, detectives and lots of laughs."
"The Pennsylvania Shakespeare Festival scores another summer hit."
"Wickedly funny…."
"Superb backstage crew…half the joy in seeing it is marveling at the skill involved by the stagehands."
"Eagerly enjoyed….success achieved."
Broad Street Review
"This Vep is polished and professional."
"Actors Brad DePlanche and Christopher Patrick deliver sight gags, wizardly quick changes, and turn lowbrow laughs into high art."
"A joke-a-second….Freewheeling amusement."
"DePlanche and Mullen play eight characters with split-second precision."
"Kudos to costume designer Lisa Zinni for supplying a treasure trove of threads."
"Set designer Steve TenEyck renders portraited perfection."
"Helsinger directs the two-hour romp at breakneck speed, landing the humor and guiding his actors brilliantly."
"You can tell they're enjoying every minute, and you can't help relishing the energy they exude."
The Morning Call
"A hilarious tour de force."
"The physical comedy and frequent quick-changes of these two incredibly talented performers boggle the mind."
"The cozy Schubert is perfect for pulling the audience right into action."
"DePlanche totally owns the part….the ease with which he moves back and forth between the roles is a testament to his versatility."
"Mullen exudes a totally non-self-conscious physicality that is hilarious…brilliant."
"Lisa Zinni returns with sumptuous costumes."
Features & Press Releases
Pennsylvania Shakespeare Festival opens The Mystery of Irma Vep – A Penny Dreadful: A Hilariously Haunted Quick-Change Comedy
FOR IMMEDIATE RELEASE June 3, 2019 Contact: Tina.slak@pashakespeare.org CENTER VALLEY, PA— Two fearless actors and a backstage brigade deliver a multitude of quick changes and side-splitting hilarity in Charles Ludlam's gothic spoof The Mystery of Irma Vep – A Penny Dreadful, opening June 22 at Pennsylvania Shakespeare Festival, the professional theatre on the campus of DeSales University. Lauded […]
Haunted Hilarity
By Lara Notarianni Modern audiences seem to have an obsession with true crime podcasts, Netflix series, and TV shows. Yet retellings of real crime and horror stories now available on our devices are not a new phenomenon. From the 1830s, wide audiences turned to "penny papers" for cheap entertainment. These tabloid-like publications sold for a […]
Artists
CAST
BRAD DEPLANCHE*
Nicodemus Underwood, Lady Enid Hillcrest, Alcazar
BROOKE HARRSCH
Mummy Dancer
MACKENZIE MOYER
Mummy Dancer
CHRISTOPHER PATRICK MULLEN*
Jane Twidsen, Lord Edgar Hillcrest, An Intruder
MARK YOWAKIM
Mummy Dancer
ARTISTIC TEAM
PATRICK MULCAHY
Producing Artistic Director
DENNIS RAZZE
Associate Artistic Director
CASEY WILLIAM GALLAGHER
Managing Director
STEPHEN CASEY
Choreographer
MAGGIE DAVIS*
Production Stage Manager
MICHAEL DEPP-HUTCHINSON
Assistant Stage Manager
MATTHEW GIVEN
Original Sound Designer
JIM HELSINGER*
Director
WILLIAM NEAL
Sound Designer
STEVE TENEYCK
Set Designer, Lighting Designer
LISA ZINNI
Costume Designer
*Member of Actors' Equity Association, the Union of Professional Stage Actors and Stage Managers in the United States.