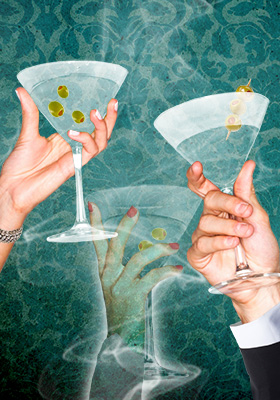 High-spirited Comedy
By Noël Coward
Directed by Anne Lewis
JULY 21 – AUGUST 7 | MAIN STAGE
Charles Condomine's household is host to a ghost. The eccentric medium Madame Arcati conducts a whimsical séance and a surprising guest arrives…the spirit of Charles' mischievous late wife Elvira (who only he can see). As he tries to convince his current (living) wife of his sanity, he's caught in a hilarious tug-of-war between two jealous women! Doors bang, vases fly, and invectives abound in this witty, spirited comedy… one you'll remember for life—and perhaps the afterlife as well! Ages 8+
Extras
Opening night, Saturday, July 23rd. Join the PSF actors and staff for a friendly post-show champagne toast.
Meet the actors for an informal talkback after the show Thursday, July 28.
Dinner with Dennis & Deb: specialty dinner themed to the play with behind-the-scenes insights Sunday, July 24; 5:00pm.
Blithe Spirit and The Taming of the Shrew will play in repertory with the same cast. Please order early for the best seating options.
 Audio Described performance on Saturday August 6th at 2pm.
Explore
DCMetroArts
"An out-of-this-world production that should not go unseen!"
"A first-rate cast that maintains his clever fast-paced humor without missing a beat."
"Ian Merrill Peakes, in yet another award-worthy performance, embodies Charles' likeable and laughable hauteur and flippancy, then becomes increasingly 'unhinged.­­'"
"A masterpiece"
"Stellar acting and direction"
The Morning Call
"Brilliantly funny"
"Ian Merrill Peakes is hilarious as the writer Charles who must juggle two jealous wives
"Laugh out loud funny"
"Eleanor Hadley makes the spirit of Elvira appealingly mischievous"
The Philadelphia Inquirer
"Full of comic gusto"
Features & Press Releases
Noël Coward's Blithe Spirit: A Writer Haunted by Past Love Creates Present Laughter
FOR IMMEDIATE RELEASE Lisa Higgins • 610.282.WILL, ext. 4 Lisa.Higgins@pashakespeare.org Center Valley, PA – A novelist is caught between his two wives in Noël Coward's enduring and light-hearted comedy, Blithe Spirit, which will play in repertory with Shakespeare's The Taming of the Shrew on the Main Stage at Pennsylvania Shakespeare Festival. Directed by Anne Lewis, Blithe Spirit will preview on July 21 […]
BLITHE SPIRIT: A HIGH-SPIRITED COMEDY BY THE MASTERFUL NOËL COWARD
Blithe Spirit: A High-Spirited Comedy by the Masterful Noël Coward By Victoria Marchesani A man dubbed "The Master" by his friends because of his seemingly bottomless pool of talents, Noël Coward lived a life of such legendary renown that it seems more like fiction than fact. Knighted by Queen Elizabeth II and elected into the […]
Artists
CAST
ALLY BORGSTROM
Edith
JOYCE COHEN*
Mrs. Bradman
ELEANOR HANDLEY*
Elvira
ERIC HISSOM*
Dr. Bradman u/s
SALLY MERCER*
Madame Arcati
KAREN PEAKES*
Ruth
IAN MERRILL PEAKES*
Charles
CARL N. WALLNAU*
Dr. Bradman
ARTISTIC TEAM
NOËL COWARD
Playwright
ANNE LEWIS
Director
DAVID P. GORDON
Set Designer
CHARLOTTE PALMER-LANE
Costume Designer
THOM WEAVER
Lighting Designer
KRISTIAN DEREK BALL
Sound Designer
KATE INGRAM
Dialect Coach
ALISON HASSMAN*
Production Stage Manager
CAROLYN REICH*
Assistant Stage Manager
*Member of Actors' Equity Association, the Union of Professional Stage Actors and Stage Managers in the United States.