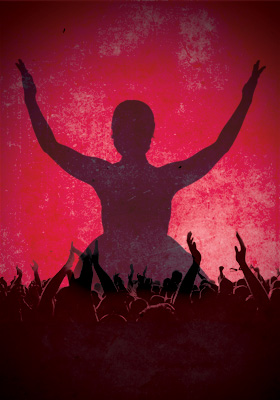 Legendary Musical
Lyrics by Tim Rice
Music by Andrew Lloyd Webber
Directed by Dennis Razze
JUNE 14 – JULY 2 | MAIN STAGE
The extraordinary musical about an extraordinary woman: this seven-time Tony Award winner captures the passion and unforgettable life story of Eva Perón, who rose from abject poverty in rural Argentina to become First Lady by the age of 27. With a dazzling score inspired by Latin, pop and jazz and filled with show-stopping numbers, including the riveting anthem "Don't Cry For Me Argentina," Evita captures the complexity of an illegitimate child who came to be "the spiritual leader of the nation" and one of history's most tragic and dramatic figures. Directed by Associate Artistic Director Dennis Razze, who was lauded for PSF's completely sold-out West Side Story last summer and Les Misérables in 2015, this production will be a "must see." PG13
Similar to the last two seasons, PSF expects the majority of performances to sell out. Order early for the best seating options.
EVITA is presented through special arrangement with R&H Theatricals and Two Knights Limited. www.rnh.com
Extras
Opening Night, Friday, June 16th. Join the PSF actors and staff for a friendly postshow champagne toast.
Meet the actors for an informal talk-back after the show Thursday, June 22 and 29.
Director's Dinners: specialty dinner themed to the play with behind-the-scenes insights Sunday, June 18, 5:00pm, and Wednesday, June 28, 5:00pm.
An Audio Described performance of Evita will be held at 8pm on Wednesday June 28th.
Explore
Philadelphia Inquirer:
"Stunning."
"Go with an open heart and it will overwhelm you."
"Superbly sung, visually gorgeous, tender."
The Reading Eagle:
"Breathtaking."
The Morning Call:
"Roscioli's powerful vocals and charisma light up the stage…"
Lehigh Valley Press:
"World-class in every theatrical sense."
"Truly a ground-breaking production."
Features & Press Releases
Artists
CAST
DEE ROSCIOLI*
Eva Peron
DAN DOMENECH*
Che
PAULO SZOT*
Juan Peron
JERUSHA CAVAZOS*
Peron's Mistress
JASON FORBACH*
Magaldi
LEONARDO ALTAFINI
Ensemble
JULIAN ALVAREZ*
Ensemble, Magaldi u/s, Peron u/s
CHRISTINE BAGLIVIO
Ensemble
ALLY BORGSTROM
Ensemble
JENNIFER DIAMOND*
Ensemble, Eva u/s.
MIKE DORSEY*
Ensemble
CALEB FUNK
Ensemble
JEFF GORTI*
Ensemble, Che u/s
EMILIE GUBLER
Ensemble
MICHAEL JOHN HUGHES
Ensemble
CAILEIGH IDELL
Ensemble
LOUIS JANNUZZI
Ensemble
SABRINA JOSEPH
Ensemble
ANGELA LAROSE
Ensemble
JAYCE MEREDITH
Ensemble
FELIX MARCHANY
Ensemble
CHRISTIAN ELÁN ORTIZ*
Ensemble, Dance Captain
ILIA PAULINO
Ensemble
WILLIAM PAZDZIORA
Ensemble
GERALDINE ROJAS*
Ensemble
JAMES "BO" SAYRE
Ensemble
ANDREW SCOGGIN
Ensemble
VICTORIA SCOVENS
Ensemble
MICHELE SEXTON
Ensemble
MATTHEW SMALDONE
Ensemble
CHELSEA MARIAH SOTO
Ensemble
EMMY SPAAR
Ensemble
ADAM VANEK*
Ensemble
SALVATORE VIEIRA
Children's Ensemble
HANNAH KURCZESKI
Children's Ensemble
SARAH MOTT
Children's Ensemble
CHARLOTTE MYERS
Children's Ensemble
TOMMY POTTS
Children's Ensemble
MELANIE ROSE WENTUM
Children's Ensemble
DANE MCMICHAEL
Ensemble
ARTISTIC TEAM
PATRICK MULCAHY
Producing Artistic Director
DENNIS RAZZE
Director/Associate Artistic Director
CASEY GALLAGHER
Managing Director
STEPHEN CASEY
Choreographer
NATHAN DIEHL
Music Director/Conductor
STEVE TENEYCK
Scenic Designer
LISA ZINNI
Costume Designer
ERIC T. HAUGEN
Lighting Designer
MATT KRAUS
Sound Designer
ARIANA KNAPP
Projections Designer
CHRISTOPHER KEE ANAYA-GORMAN*
Production Stage Manager
CAROLYN REICH*
Assistant Stage Manager
LAUREN STANCZYK
New York Casting/CSA
*Member of Actors' Equity Association, the Union of Professional Stage Actors and Stage Managers in the United States.