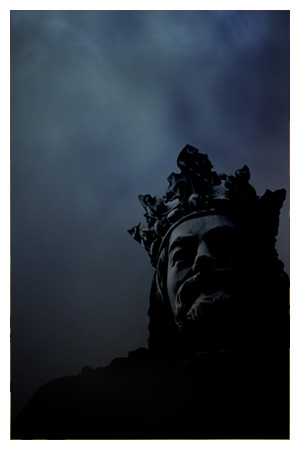 A Masterpiece of Masterpieces
By William Shakespeare
Directed by Patrick Mulcahy
JULY 20 – AUGUST 7 | MAIN STAGE
A king is dead. A kingdom, stolen. A ghost walks the earth, and a noble prince is left to pick up the pieces of shattered humanity. Treachery abounds and revenge is the word. To prevail, Hamlet must first win the greatest battle, unfolding in his mind, as he wrestles with life itself. Shakespeare explores the rich complexity of the human psyche in an exhilarating psychological thriller. A masterpiece of masterpieces, and the crowning glory of human thought.
Extras:
Prologues: join us for insights into the play in an informal setting. Free. Held in the theatre 45 minutes prior to curtain.
Meet the actors for a talk-back following the performance on Thursday, July 28.<iframe width="560″ height="315″ src="https://www.youtube.com/embed/Ty8wowOznao" frameborder="0″ allow="accelerometer; autoplay; clipboard-write; encrypted-media; gyroscope; picture-in-picture" allowfullscreen></iframe>Lee & Dolly Butz
Sponsor:
Amaranth Foundation
Co-Sponsor:
Orlando Diefenderfer Electrical Contractors
Director Sponsors:
Linda Lapos & Paul Wirth
Actor Sponsor:
Lee & Dolly Butz
Explore
The Bethlehem Press
"Hamlet raises the Bard at PSF."
"Under Mulcahy's skillful direction, PSF not so much tackles Hamlet, as cajoles, prods and lays bare the classic's core dynamics and issues."
"What results is a tragedy, not of one man, but of mankind."
"Justin Adams creates a boyish, charming, impulsive and high-energy Hamlet, quite unlike brooding Danes typical of many interpretations."
"You don't want the play to end."
The Morning Call
"Director Patrick Mulcahy's exceptional cast brings a new life, urgency and relevance to this story of power and filial revenge. And under Mulcahy's fine direction and the cast of PSF veterans and newcomers, the tale becomes more a clash of generations."
"Justin Adams is a riveting presence as the young, impetuous Prince Hamlet, grieving over his father's untimely death."
Reading Eagle
"As buoyant and delightful as 'Pride and Prejudice' is, 'Hamlet' shows the same actors in a shadowy, bone-chilling tragedy, demonstrating their versatility."
Artists
CAST
Hamlet
Justin Adams*
Cornelia
Jessica Bedford
Reynaldo/Priest
Daniel Bontempo
Marcellus/Player/Osric
Dan Bound-Black
Laertes
Michael Brusasco*
Player/2nd Grave Digger
John Cappelletti
Guildenstern
Grant Chapman
Ghost/Player King
Christopher Coucill*
Francisco / Rosencrantz
Jacob R. Dresch
Horatio
David Kenner*
Ophelia
Mairin Lee*
Courtier/Player
Eliza Martin
Player
Lauren Mulcahy
Bernardo/Lucianus/Sailor
James Stabp
Gertrude
Susan Riley Stevens*
Polonius/Grave Digger
Wayne S. Turney*
Player Queen
Jo Twiss*
Claudius
Greg Wood*
ARTISTIC TEAM
Director
Patrick Mulcahy
Scenic & Lighting Designer
Steve TenEyck
Costume Designer
Sam Fleming
Sound Designer
Matthew Given
Fight Director
Rick Sordelet
Wig & Makeup Designer
Michael Ferguson
Stage Manager
Hannah Woodward*
*Member of Actors' Equity Association, the Union of Professional Stage Actors and Stage Managers in the United States.