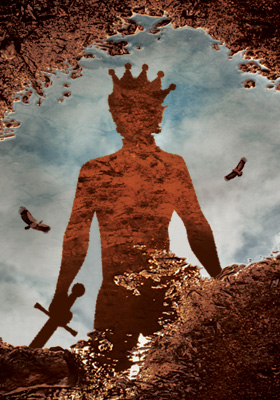 "The story continues…"
By William Shakespeare
JULY 24 – AUGUST 4 | SCHUBERT THEATRE
Following last season's King Richard II in the next chapter of Shakespeare's epic cycle, the irrepressible Falstaff, the prodigal Prince Hal, and the rebellious Hotspur navigate the shifting sands of allegiance in King Henry IV's England. Honor is at stake as commoners and kings, folly and duty collide in Shakespeare's richly layered coming-of-age tale. Prince Hal is called upon to emerge from the raucous hilarity of Falstaff and his antics at the Boar's Head Tavern to the valor of the battlefield, to earn his place as the next great ruler of this "sceptered isle."
"Extreme Shakespeare." This production will be rehearsed akin to the way Shakespeare's company would have: actors arrive with their lines learned, rehearse on their own, wear what they can find, and open in a matter of days. No director, no designers. Just great actors, a brilliant play, pure adrenaline, spontaneity, and creativity. Ages 10+
Extras
Opening Night, Friday, July 26: Join the PSF actors and staff for a friendly post-show champagne toast.
Savoring Shakespeare – specialty dinner themed to the play with behind-the-scenes insights: Sunday, July 28, 5:00pm.
Meet the actors for an informal talk-back after the show Thursday, August 1.
Prologues: Join us for insights into the play in an informal setting. Free. Held in the theatre 45 minutes prior to curtain.
Explore
Broad Street Review
"All hail the Henriad."
"Broadway veteran John Ahlin…inhabits the character inside and out—in line delivery, facial expression, stage movement, everything. Best of all, he connects with his troupe; thus, this extempore, actor-driven show has a de facto director."
"John Keabler makes you feel for King Henry: weak, dying, and grieving over his wastrel son."
"Anthony Lawton captures the villainous Worcester perfectly."
"PSF veteran Christopher Patrick Mullen shines as Douglas, the warrior Scot with telltale chinks in his bravery."
"Jane Ridley as Mistress Quickly and Brad DePlanche as Bardolph are funny…feeding off Falstaff's comic energy."
"Tkel has good insight into Hotspur."
"Praise to PSF for staging the 'Henriad' plays."
The Morning Call
"As the prodigal Prince Hal and the rebellious Hotspur, respectively, Mairin Lee and Kathryn Tkel so immerse themselves in their roles that their gender becomes irrelevant."
"Tkel is terrific as the hotheaded Harry Percy, known as Hotspur. She imbues the role with fiery passion and valiant bravery."
"As the wicked Falstaff, John Ahlin is a wonderful comedian."
"Although Falstaff is self-serving and corrupt, Ahlin imbues him with a certain charisma that keeps drawing Hal to him."
Lehigh Valley Press
"Words, which in PSF's "Henry IV, Part 1" ring forth even more abundantly clearly on a nearly bare stage with actors in costumes evoking what might have been worn in 1402 and 1403 when the play's story takes place."
"It's one of the most satisfying productions of Shakespeare ever at PSF."
"It's essential for the Shakespeare aficionado and student of The Bard."
"It's simply great."
"Ironically, even though it's not a fully-realized production in terms of theater nomenclature, the PSF production is fully-realized in that the actors take ownership of the production and their roles."
"The performances crackle."
"Mairin Lee plays the role of Hal handsomely. She sublimates her femininity to serve the text. In a vibrant and electric performance, Lee transitions from playboy Hal to soldier Hal, reflected in her reflection held with steady gaze as the lights fade on act one."
"Kathryn Tkel is a jittery presence, as bespeaks the very name of the role she plays, that of Hotspur. She's emotional and reactive: a soldier of misfortune."
"Ahlin conveys perfectly the character's gargantuan charm. Falstaff may be a clown, but he's not clowning around in the memorable "Honor" speech, which resonates with truth. The speech is trenchant."
"Ahlin's performance is captivating."
"The words linger on well after the play is gone."
"The play may be the thing, but in PSF's Henry IV, Part 1 the actors are more than mere players. Kudos to all in this riveting production."
"Don't miss it."
Features & Press Releases
Living With The Consequences of Deposing A Poet-King, and the Mis-Education of England's Next Hero-King
By Heather Helinsky, Dramaturg In 1863, with the American Civil War still raging, President Abraham Lincoln went to see a production of Henry IV, Part 1. Lincoln, who studied and enjoyed Shakespeare's plays, was dismayed that one of his favorite scenes had been cut by American actor James Hackett. Lincoln then invited Hackett to the White […]
Artists
CAST
JOHN AHLIN*
Falstaff
BRAD DEPLANCHE*
Northumberland, Bardolph
KAILEY EDWARDS
Ensemble
MEGAN FRY
Ensemble
JOHN KEABLER*
King Henry
ANGELA LAROSE
Lady Percy
ANTHONY LAWTON*
Worcester
MAIRIN LEE*
Prince Hal
IYKECHI MCCOY
Gadshill
J. DANE MCMICHAEL
Poins, Vernon
GABE MOSES
Ensemble
MACKENZIE MOYER
Lancaster, Ensemble
CHRISTOPHER PATRICK MULLEN*
Douglas
BRANDON J. PIERCE*
Blunt, Sheriff
JANE RIDLEY*
Mistress Quickly, Westmoreland
KATHRYN TKEL*
Hotspur
MARK YOWAKIM
Peto
ARTISTIC TEAM
PATRICK MULCAHY
Producing Artistic Director
DENNIS RAZZE
Associate Artistic Director
CASEY WILLIAM GALLAGHER
Managing Director
MAGGIE DAVIS*
Production Stage Manager
MICHAEL DEPP-HUTCHINSON*
Assistant Stage Manager
*Member of Actors' Equity Association, the Union of Professional Stage Actors and Stage Managers in the United States.
Videos
More information coming soon.