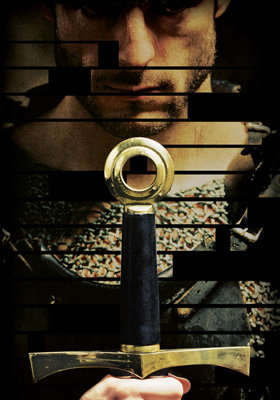 "The brightest heaven of invention…"
By William Shakespeare
Directed by Matt Pfeiffer
JULY 16 – AUGUST 2 | MAIN STAGE
The original "band of brothers." A young king rallies his soldiers "unto the breach" on his way to becoming the most celebrated leader in England's history. But at what cost to his land, his subjects, and his conscience does he pursue the glories of his nation and his reign? How does his politically arranged marriage to a French princess become a true romance? Vividly exploring the enigmatic morality of leadership, Shakespeare's masterwork celebrates the power of language to shape destiny and summons to life a majestic age. Ages 8+
Pennsylvania Shakespeare Festival's productions of Henry V and Pericles are part of Shakespeare in American Communities, a program of the National Endowment for the Arts in partnership with Arts Midwest.
Extras
Prologues: join us for insights into the play in an informal setting. Free. Held in the theatre 45 minutes prior to curtain.
Opening night, Saturday, July 18th. Join the PSF actors and staff for a friendly post-show champagne toast.
Meet the actors for an informal talk-back after the show Thursday, July 23.
Savoring Shakespeare: specialty dinner themed to the play with behind-the-scenes insights Thursday, July 23; Saturday, July 25 and August 1; Sunday, August 2; 5:30pm
Henry V and The Foreigner will play in repertory with the same cast. Please order early for the best seating options.
Sponsors:
Kathleen Kund Nolan
& Timothy E. Nolan
Actor Sponsors:
Lee & Dolly Butz
Explore
Reviews
"Zack Robidas…makes for a commanding king – and adroitly supplies nuance to Henry's several moods.
Marnie Schulenburg…beautifully offers up a scene in which her maid (Jane Ridley) teaches her some English.
"The cast is uniformly strong…. Marnie Schulenburg plays a charming Princess Katherine, as fluent in gentle humor as in French; her role as the Boy offers an interesting counterpoint as a younger but more world-wise individual who is also trying to find an honorable path in the world."
"Zack Robidas' Henry… presents a confident front of responsible yet bold leadership."
"Masterful performance."
"Breathtaking."
"…One needs an actor with the right stuff to pull off a convincing Henry V, and in Berks County's Zack Robidas, Pfeiffer has found his man….
"He finds all of Henry's nuances…. It is a powerful turn, worthy of an actor who has accepted the challenge and triumphed."
"Pfeiffer surrounds Robidas with actors of equal stature…"
"As Katherine, the French princess whom Henry weds, Marnie Schulenburg is a wonder, both beautiful and intuitive. And the always incomparable Jane Ridley is a delight as Hostess Quickly and Katherine's lady-in-waiting, Alice. Pfeiffer's physical staging is visually (and artistically) impressive and efficient."
"Exceptional…. On every… level, this "Henry V" has succeeded."
Features & Press Releases
Shakespeare and his Band of Brothers: Henry V
Shakespeare and his Band of Brothers: Henry V By Heather Helinsky Dramaturg 1599: An extraordinary year for Shakespeare as an Elizabethan dramatist.  As he explores the dimensions of King Henry V's legendary status as England's greatest warrior in his play of the same title, he's also emerging as one of England's preeminent playwrights and professional […]
Henry V Plot Synopsis
Henry V Plot Synopsis By Megan Diehl The newly crowned King Henry V, once an unruly prince, now reigns as a firm and serious ruler. Assured by the Archbishop of Canterbury and the Bishop of Ely that he has a right to the French throne, the King declares his intentions to seize the French crown […]
Artists
CAST
Chorus/ Montjoy/Governor Harfleur/Erpingham/ Burgundy:
Greg Wood*
Archbishop of Canterbury/Lord Scroop/Captain Fluellen:
Anthony Lawton*
Bishop Of Ely/Pistol:
William Zielinski*
Henry V:
Zack Robidas*
Duke of Exeter:
Wayne S. Turney*
Bardolph/ King of France:
Carl N. Wallnau*
Earl of Cambridge/Constable of France/Michael Williams:
Dan Hodge*
Louis the Dauphin/Nym:
Jacob Dresch*
Hostess Quickly/Alice:
Jane Ridley
Boy/Katherine:
Marnie Schulenburg*
ARTISTIC TEAM
Director:
Matt Pfeiffer
Scenic Designer:
Bob Phillips
Costume Designer:
Sam Fleming
Lighting Designer:
Thom Weaver
Composer/Music Director/Sound Designer :
Alex J. Bechtel
Fight Director:
J. Alex Cordaro
Production Stage Manager:
Alison Hassman*
Assistant Stage Manager:
Carolyn Reich*
Producing Artistic Director:
Patrick Mulcahy
*Member of Actors' Equity Association, the Union of Professional Stage Actors and Stage Managers in the United States.