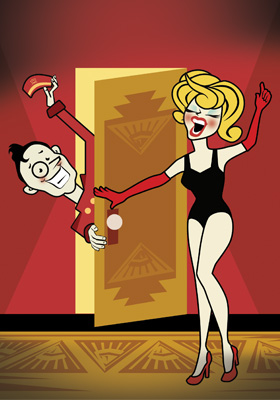 "Non-stop laughter" — Variety
By Ken Ludwig
Directed by Jim Helsinger
JULY 9 – AUGUST 3 | MAIN STAGE
The Cleveland Opera Company is buzzing with anticipation as world-renowned tenor Tito Morelli is scheduled to play Otello for a single night. But what's an opera company to do when the superstar takes the wrong dose of the wrong stuff and can't go on? How many doors will have to slam in this hilarious, mistaken-identity farce to get someone on stage for Il Stupendo? Add identical costumes, a singing bellhop, and a seductive soprano, and chaos of operatic proportions ensues.
Some mature situations. PG11+
Extras
Opening night, Friday, July 11. Join the PSF actors and staff for a friendly post-show champagne toast.
Meet the actors for an informal talkback after the show Thursday, July 31.
Dinner with Dennis and Deb: specialty dinner themed to the play with behind-the-scenes insights 5:30pm Wednesday, July 16 and Sunday, July 20.
Lend Me a Tenor and Macbeth will play in repertory with the same cast. Please order early for the best seating options.
Explore
Reviews
The Morning Call
"'Tenor' is funny and flawless."
"A superb cast and deft direction by Jim Helsinger gives the mayhem of Ken Ludwig's hilarious farce "Lend Me a Tenor" at the Pennsylvania Shakespeare Festival a lightning quick delivery that provides nonstop laughs."
"The cast … is uniformly outstanding, with impeccable timing in the riotous extravaganza."
"A slapstick stew of confusion and mistaken identity."
"Jacob Dresch is hilarious."
"Suzanne O'Donnell is nonstop fury onstage as Maria."
Lehigh Valley Press
Jim Helsinger directs a cast of PSF "all-stars," missing no opportunity to mine the play's laugh lines.
PSF's "Lend Me A Tenor" generates laughter of operatic proportions.
The play has eight superb actors.
Wallnau is a master of timing, with his slow burn a thing to behold…. His befuddlement, double takes and exasperation par excellence are laugh-out-loud funny.
It's another Helsinger comedic tour de farce. Don't miss it.
Reading Eagle
"Hilarious."
"Will leave the audience in stiches."
"From the direction to the casting to the gorgeous set, lighting and costume designs, the show hits every mark."
"Perfect."
"The audience shakes with laughter."
"A wonderful show with a wonderful cast. Perfect entertainment for a summer evening."
Features & Press Releases
Artists
CAST
Max, assistant to Saunders:
Jacob Dresch*
Maggie, Max's girlfriend:
Deanna Gibson*
Saunders, Maggie's father, general manager of the Cleveland Grand Opera Company:
Carl N. Wallnau*
Tito Merelli, a world-famous tenor, known also to his fans as Il Stupendo:
Perry Ojeda*
Maria, Tito's wife:
Suzanne O'Donnell*
Bellhop, a bellhop:
Anthony Lawton*
Diana, a soprano:
Eleanor Handley*
Julia, Chairman of the Opera Guild:
Susan Riley Stevens*
ARTISTIC TEAM
Playwright:
Ken Ludwig
www.kenludwig.com
Director:
Jim Helsinger
Scenic Designer:
Bob Phillips
Lighting Designer:
Thom Weaver
Costume Designer:
Amy Best
Sound Designer:
Matthew Given
Vocal Coach:
J. Bennett Durham
Dialect Coach:
Lynne Innerst
Production Stage Manager:
Stacy Renee Norwood*
Producing Artistic Director:
Patrick Mulcahy
*Member of Actors' Equity Association, the Union of Professional Stage Actors and Stage Managers in the United States.