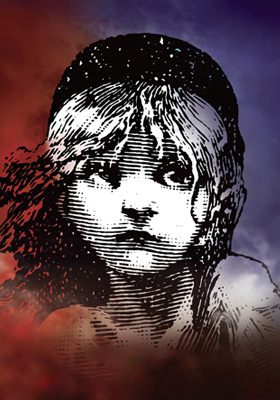 Join the Revolution
PSF presents a new production of
BOUBLIL and SCHÖNBERG'S
LES MISÉRABLES
Directed by Dennis Razze
JUNE 10 – JUNE 28 | MAIN STAGE
Les Misérables is licensed by Music Theatre International [MTI] by arrangement with CAMERON MACKINTOSH LTD.
Now on Broadway and seen on stage by more than 60 million people worldwide, this epic musical has been a global sensation for a generation. Experience this powerfully inspiring musical on the PSF Main Stage in a groundbreaking production directed by Associate Artistic Director Dennis Razze, whose creative leadership of PSF's recent musicals Fiddler on the Roof, Oklahoma, and Sweeney Todd received rave reviews and enchanted audiences.
Join the revolution against a torrent of injustice and despair as Les Misérables shines the light of love and redemption on all it touches. This soaring and unforgettable musical will capture your heart and will be the theatrical experience of a lifetime.
PSF expects all 22 performances to sell out and cannot extend the run.
Don't miss it! PG10
Extras
Opening night, Friday, June 12. Join the PSF actors and staff for a friendly post-show champagne toast.
Meet the actors for an informal talk-back after the show Thursday, June 18 and 25.
Dinner with Dennis and Deb: specialty dinner themed to the play with behind-the-scenes insights Sunday, June 14 and Saturday, June 20, 5:30pm.
Explore
WHYY/Newsworks.org/Howard Shapiro
"The stupendous version of Les Misérables … certifies the Pennsylvania Shakespeare Festival as one of the region's major producers of musicals."
"The festival's show is powerful, and striking on Steve TenEyck's impressive set pieces and in Lisa Zinni's richly designed costumes. It's so crisp in its sound design by Matthew Given and Ian P. Carr, you feel you could be up on stage a foot from the singers. And it's interpreted with passion, by a collection of performers with perfect voices for their roles and a 15-piece orchestra led by Nathan Diehl."
"…Staged with vision by the festival's associate artistic director, Dennis Razze."
"[Mike] Eldred [as Valjean] is passionate and nuanced, and delivers a gorgeous "Bring Him Home."
"Javert, the heavy, is an intense Jeremiah James, who plays the role with a rich baritone, tall stature and tremendous force."
Lehigh Valley Press/Paul Willistein
"[Dennis] Razze's direction of PSF's Les Misérables displays a musical theater master at the top of his form. It's a masterpiece.
"Scenes flow seamlessly. The production is propulsive, relentless and moves briskly."
"'I Dreamed A Dream,' becomes a showcase for Kate Fahrner, who sings with extraordinary sensitivity."
"The spotlight number ('A Heart Full of Love') for Brad Greer (Marius) and Delaney Westfall (Cosette) provides outstanding solo and duet work."
"Rachel Potter (Éponine) steals the show with her heartbreaking interpretation of 'On My Own.'"
The Morning Call/Kathy Lauer-Williams
"Les Miserables is, without a doubt, the most ambitious and impressive musical Pennsylvania Shakespeare Festival has ever staged. The music is amazing, the acting satisfying and the staging seamless and cohesive."
"The show is packed with top-notch performances by Broadway and recording artists who play the leads, as well as talented DeSales students and graduates who fill out the ensemble."
"Mike Eldred is flawless as Jean Valjean."
"Besides being a fabulous vocalist, [Jeremiah] James fully embodies the increasingly conflicted [Javert] and, by the end, his depiction of the tortured and broken character is the best I've seen."
"Designer Steve TenEyck's set evokes the disheveled and claustrophobic world of 19th century Paris, during the time of a student uprising against the government…. There are a lot of moving parts, and huge walls and two story sets are moved around the stage almost like a choreographed dance."
"Jon Berry, who has a powerful voice, is outstanding as student leader Enjolras."
Features & Press Releases
Artists
CAST
Jean Valjean:
Mike Eldred*
Javert:
Jeremiah James*
Fantine:
Kate Fahrner*
Thenardier:
Tim Gulan*
Madame Thenardier:
Eliza Gilbert*
Eponine, Grown up:
Rachel Potter*
Cosette, Grown up:
Delaney Westfall*
Enjolras:
Jon Berry*
Marius:
Brad Greer*
Little Cosette, Fantine's daughter:
Sarah Malek
Little Cosette, Fantine's daughter:
Molly McGorry
Gavroche, an urchin:
Robert Pierno
Gavroche, an urchin:
Marco Porras
Young Eponine, the Thenardier's daughter:
Sophia Henkel
Young Eponine, the Thenardier's daughter:
Jordan King
The Bishop of Digne/Grantaire:
Christopher DeProphetis*
Feuilly/Champmathieu:
Matthew Charles Thompson*
Courfeyrac/Constable/Babet:
Elliot Lane*
Lesgles/Bamatabois/Loud Hailer:
Trevor James
Joly:
Brent Schlosshauer
Jean Prouvaire/Pimp/Laborer/Montparnasse:
Spencer Glass
Combeferre/The Foreman:
Zachary Speigel
Brujon/Constable/Innkeeper:
Christopher Tefft
Constable:
Brendan Doyle
Claquesous/Farmer/Fauchelevant:
James Bo Sayre
Ensemble:
Louis Jannuzzi III
Ensemble:
Andrew Skitko
Factory Girl:
Beth Egan
Old Beggar Woman:
Grace Anne Field*
Wigmaker:
Catherine Nadeau
Ensemble:
Christine Baglivio
Ensemble:
Valerie Berger
Ensemble:
Phoenix Best
Ensemble:
Ally Borgstrom
Ensemble:
Kate Fahrner*
Ensemble:
Amy Johnson
Ensemble:
Tori Lewis
Ensemble:
Alexandra Seman
Dance Captain:
Christine Baglivio
Fight Captain:
Tim Gulan*
ARTISTIC TEAM
Playwrights:
Alain Boublil and Claude-Michel Schonberg
Director:
Dennis Razze
Choreographer:
Stephen Casey
Music Director:
J. Bennett Durham
Conductor:
Nate Diehl
Scenic Designer:
Steve TenEyck
Lighting Designer:
Eric T. Haugen
Costume Designer:
Lisa Zinni
Sound Designer:
Matthew Given
Sound Designer:
Ian P. Carr
Wig & Makeup Designer:
Martha R. Ruskai
Props Designer:
Samina Vieth
Dialect Coach:
Jane Ridley
Fight Director:
Rick Sordelet
Production Stage Manager:
Melissa Chacón*
Assistant Stage Manager:
Carolyn Reich*
New York Casting by:
Larua Stanczyk Casting, CSA
Novelist:
Victor Hugo
Producing Artistic Director:
Patrick Mulcahy
*Member of Actors' Equity Association, the Union of Professional Stage Actors and Stage Managers in the United States.