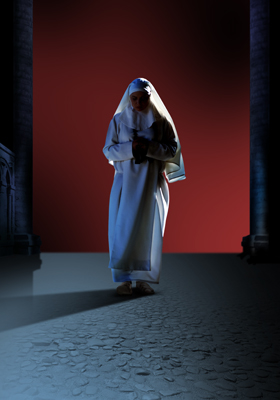 "Virtue is bold, and goodness never fearful."
By William Shakespeare
Directed by Fontaine Syer
JULY 18 – AUGUST 4 | MAIN STAGE
Must a novice nun sacrifice herself to save her brother? Virtue and sin collide in Shakespeare's masterful dark comedy. When depravity rules the streets of Vienna, Duke Vincentio deputizes the strict and severe Lord Angelo to restore the city to decency. When Angelo discovers that he too is prone to moral weakness, a good man's life and his sister's purity hang in the balance. Mature content. PG 13.
Extras
Prologues: join us for insights into the play in an informal setting. Free. Held in the theatre 45 minutes prior to every curtain.
Opening night, Saturday, July 20. Join PSF staff and acting company for a friendly post-show champagne toast.
Meet the actors for an informal talk-back on Thursday, July 25.
Shakespeare & Catholicism. A joint program with the Salesian Center featuring distinguished author and professor, Joseph Pearce. Wednesday, July 31, 7:00pm.
Savoring Shakespeare. Delicious and themed to the play, with behind-the-scenes insights. August. 3 & 4.
See the same cast performing in The Importance of Being Earnest.
Explore
The Morning Call
"So many surprises and unexpected twists that you follow the narrative unquestionably and immerse yourself joyously."
"Erin Partin's Isabella, a vision in soft grayish ivory, is clear voiced, plain spoken and very appealing as she battles for her brother Claudio's life."
"Brad DePlanche and Henry McDaniel III add wonderful physical comic touches. Alexie Gilmore takes a cameo and makes Mariana a compelling character study."
"Surprisingly charming."
The Reading Eagle
"Boldly staged … and brilliantly designed."
"Blake Ellis' thrillingly nuanced performance as the heartless Angelo is one of the evening's highlights."
"Wood, as Vincentio, is a marvel. He speaks the words of Shakespeare so comfortably that one would think it is his first language. "
Playshakespeare.com
"Blake Ellis's Angelo demonstrates a truly believable fall from grace by a man completely ill-equipped to deal with moral greyness."
"Impressive execution."
"A nuanced and interesting exploration of moral ambiguity."
Artists
CAST
Vincentio
Greg Wood*
Escalus
Wayne S. Turney*
Angelo
Blake Ellis*
Friar Thomas
Jequrey Slaton
Lucio
Aaron Kirkpatrick
A Gentleman/Froth
Mark Marano
A Gentleman
Brendan Moser
Mistress Overdone
Suzanne O'Donnell*
Pompey
Brad DePlanche*
Claudio
Zack Robidas
Juliet
Julia Pfender
Provost
Dan Hodge*
Isabella
Erin Partin*
Francisca
Katie Wilson
Elbow/Barnardine
Henry A. McDaniel III
Abhorson/Ensemble
Andrew Goebel
Mariana
Alexie Gilmore
Ensemble
Dan Tomanksy
ARTISTIC TEAM
Director
Fontaine Syer
Scenic Designer
Bob Phillips
Lighting Designer
Thom Weaver
Costume Designer
Marla Jurglanis
Sound Designer
Matthew Given
Assistant Director
Ian Bedford
Production Stage Manager
Stacy Renee Norwood*
Assistant Stage Manager
Alison Hassman*
Producing Artistic Director
Patrick Mulcahy
*Member of Actors' Equity Association, the Union of Professional Stage Actors and Stage Managers in the United States.