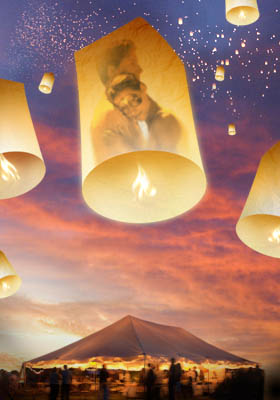 "There was a star danced, and under that was I born."
By William Shakespeare
Directed by James J. Christy
JULY 11 – AUGUST 5 | MAIN STAGE
With a zest for love and a love of life, Shakespeare's spirited comedy offers a tale of two courtships. Beatrice and Benedick elevate the art of the quarrel in their duel of glittering wordplay, while Claudio and Hero have their true love put to the test. Dastardly villains are challenged by comical officers, as honor and desire collide to create much ado about laughter and love. Recommended for ages 6+.
For more on this show, read this season's issue of the PSF Newsletter "The Quill."

Extras:
Prologues: join us for insights into the play in an informal setting. Free.
Held in the theatre 45 minutes prior to curtain.
Meet the actors for an informal talk-back following the performance on Thursday, July 26.
Much Ado About Nothing plays in repertory on the Main Stage with Cat on A Hot Tin Roof, featuring the same cast.
Sponsors:
Kathleen Kund Nolan & Timothy E. Nolan
Co-Sponsors:
Dr. & Mrs. Frank J. Szarko
Explore
Bethlehem Free Press:
"Brilliant."
"Tom Degnan gives the role of…Don John a chilling ferocity."
"Zack Robidas imbues Claudio with a handsome sincerity."
"…a fine and humorous performance by Rob Kahn as Benedick. Kahn owned the audience opening night."
"…as if romantic pairings will bloom color anew and bring life to a town and country weary of war."
Philadelphia Inquirer:
"Good theater."
"A greatly entertaining production."
"A rich Much Ado, with a cast of 22 in nuanced portrayals."
"A very good time."
The Morning Call:
"Thoroughly enjoyable and engaging."
"Enchanting."
"Inspired."
"Both comic and touching."
"Classic comedy."
Artists
CAST
Leonato:
Joe Vincent*
Antonia:
Jo Twiss*
Beatrice:
Eleanor Handley*
Hero:
Emiley Kiser
Don Pedro:
Larry Bull*
Benedick:
Rob Kahn*
Claudio:
Zack Robidas
Don John:
Tom Degnan*
Borachio:
Jake Blouch
Conrade:
Andrew Goebel
Balthasar:
Matt Kleckner
Margaret:
Colleen Clancy
Ursula:
Carey Van Driest*
Hugh Oatcake:
John Cappelletti
George Seacoal:
Matt Kleckner
Dogberry:
Anthony Reimer*
Verges:
Carey Van Driest*
Friar Francis:
Gordon Gray
Sexton:
Mark Marano
Messenger/Watch:
Jay Slaton
Ensemble:
Sarah De Night
Ensemble:
Patti-Lee Meringo
ARTISTIC TEAM
Director:
James J. Christy
Set and Lighting Designer:
Thom Weaver
Costume Designer:
Sam Fleming
Sound Designer:
Matthew Given
Choreographer:
Erin Hurley
Stage Manager:
Hannah Woodward*
Producing Artistic Director:
Patrick Mulcahy
*Member of Actors' Equity Association, the Union of Professional Stage Actors and Stage Managers in the United States.