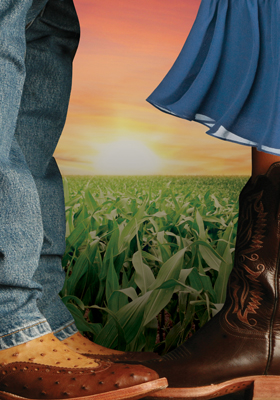 "Cain't say no to this beautiful mornin'."
Music by Richard Rodgers
Book & lyrics by Oscar Hammerstein II
Based on the play Green Grow the Lilacs by Lynn Riggs
Original Dances by Agnes de Mille
Directed by Dennis Razze
JUNE 12 – JUNE 30 | MAIN STAGE
A vibrant musical celebration of the pioneer spirit that built America. With a rousing score, exuberant dances, and passionate love story, Rodgers and Hammerstein's first collaboration resonates with themes of progress, community, and freedom. Iconic songs like "People Will Say We're in Love," "The Surrey with the Fringe on Top" and "Oh, What a Beautiful Mornin'" capture all the joy and hope beyond the struggles of the settlers' life in the Midwest. Recommended for ages 6+.
Special Event: Oklahoma! Picnic Throw Down
Extras
Meet the actors for informal talk-backs following all Thursday performances, except previews.
Opening night, Friday, June 14 – Join PSF staff and acting company for a friendly post-show champagne toast.
Dinner with Director Dennis Razze. Themed dinner and bar with behind-the-scenes insights and conversations. Sunday, June 16, following the matinee.
Explore
Newsworks
"A show full of glorious singing."
"Curly, who delivers that first song, is the big-baritoned Doug Carpenter, wooing the wonderfully girlish Christine Negherbon, playing Laurey."
"Very fine actors."
"There is chemistry on this stage and not just between the different love matchups, but among the entire cast."
"And is there ever some mean dancing…with big-arced whirls and joyous swirls."
The Reading Eagle
"Of the myriad productions of the show I have seen in more than three decades of reviewing, the PSF's current staging stands out as one of the most artistically successful."
"Sophisticated choreography…. Bold and exhilarating"
"Razze has cast 'Oklahoma!' without a weak link."
"Bateman's Jud is a gem."
"Sean McGee, as Will Parker, dazzles with his dancing."
The Bethlehem Press
"An extraordinary evening of artistry…. An exuberant, stupendous and memorable production."
"From the moment Doug Carpenter (Curly) opens his mouth for the show opening 'Oh, What A Beautiful Morning," you realize you're in the presence of greatness."
"Carpenter shines and the voice of Christine Negherbon (Laurey) glistens in their duet."
"Bateman in outstanding for 'Lonely Room.'"
"Fantastic… jaw-dropping performances."
The Morning Call
"The magnificent Rodgers and Hammerstein musical score is filled with one singable hit song after the other."
"Razze's talented, engaging and attractive cast carries the show."
"Doug Carpenter has a magnificent voice."
"Voices seem to float together in melodious harmonies."
"Brent Bateman gives an unforgettable performance as Jud Fry…. His duet with Curly, 'Pore Jud is Daid,' is a masterpiece of satiric sarcasm and villainy."
"Full of energy… Romantic and atmospheric."
Artists
CAST
Aunt Eller:
Anne Lewis*
Curly:
Doug Carpenter*
Laurey:
Christine Negherbon*
Ike Skidmore:
Dave Scheffler
Fred:
Chris Kotera*
Slim:
Cody Davis*
Will Parker:
Sean McGee
Jud Fry:
Brent Bateman*
Ado Annie Carnes:
Julia Pfender
Ali Hakim:
Fran Prisco*
Gertie Cummings:
Kaitlyn Kurowski
Ellen:
Phoenix Best
Katie:
Christine Baglivio
Sylvie:
Caitlin Dailey
Armina:
Audra Fryberger
Aggie:
Leah Poyo
Andrew Carnes:
Tom Frye*
Cord Elm:
Andrew Goebel
Jess:
Rhianna Radick
Chalmers:
Jequrey Slaton
Mike:
Marc Bitler
Joe:
Matthew Davis Wiggin*
Sam:
Dan Tomansky
Ensemble:
Erick J. Huertas
Ensemble:
Kevin Riddagh
Ensemble:
Grace Ann Field
Ensemble:
Erinn Redfern
ARTISTIC TEAM
Director:
Dennis Razze
Choreographer:
Stephen Casey
Musical Director/Conductor:
Nathan Diehl
Set Designer:
David P. Gordon
Lighting Designer:
Eric T. Haugen
Costume Designer:
Michael McDonald
Sound Designer:
Matthew Given
Fight Director:
Rick Sordelet
Production Stage Manager:
Robin Grady*
Assistant Stage Manager:
Alison Hassman*
Producing Artistic Director:
Patrick Mulcahy
*Member of Actors' Equity Association, the Union of Professional Stage Actors and Stage Managers in the United States.