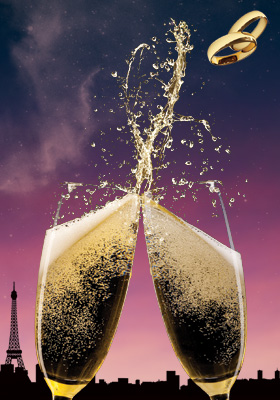 "Two hours of comic bliss."
By Noël Coward
Directed by Dennis Razze
JULY 18 – AUGUST 4 | MAIN STAGE
After a volatile marriage of volcanic proportions, Amanda and Elyot have divorced and are each newly married to new, sensible spouses. Chance has brought the two couples to adjacent honeymoon suites with adjoining balconies where the fires of former fervor prove irresistible. With the comedic weaponry of Coward's lightning cleverness and razor-sharp wit, sparks fly as the couple renews their tempestuous relationship. They fight to maintain effervescent decorum against the force of fiercer passions, but their self-restraint is no match for the kind of relationship one cannot live with or without. Lauded as "two hours of comic bliss" by The Telegraph, this delectable comedy of manners delivers scintillating satire—shaken, not stirred. Ages 13+
Extras
Opening Night, Saturday, July 20: Join the PSF actors and staff for a friendly post-show champagne toast.
Meet the actors for an informal talk-back after the show: Thursday, July 25.
Director's Dinner – specialty dinner themed to the play with behind-the-scenes insights: Friday, August 2, 5:00pm.
 Audio Described and Open Captioned performance: Saturday, July 27, 2:00pm.
Private Lives and Antony & Cleopatra will play in repertory with the same cast. Please order early for the best seating options.
Sponsor:
Amy Miller Cohen, Ph.D.
Co-Sponsors:
Susan Henry Martin &
James T. Martin, Jr.
Keith & Stefanie Wexler
Explore
Lehigh Valley Press
"These 'Private Lives' shine…"
"Sparkling new production…"
"PSF production, directed with meticulous grace by PSF Associate Artistic Director Dennis Razze."
"Polished like a gem and sparkles like a diamond."
"Lovely duo and solo dances as staged by Choreographer Stephen Casey and realistic-looking altercations of Amanda and Elyot as executed by Fight Director J. Alex Cordaro."
"Superb."
"The contrast among the four main characters is excellent."
"Matthew Floyd Miller portrays self-possessed, coolly-efficient and charmingly-brilliant Elyot with the right amount of strength, insufferability and, yes, vulnerability."
"Eleanor Handley gives a bravura performance as Amanda. She presents Amanda not as a churlish vixen, but rather an independent woman of passion, strength and beauty. Her body language is grand, relaxed and enthusiastically liberated."
"Miller and Handley's duet at the baby grand, singing "Some Day I'll Find You" is bittersweet, and one of the play's highlights."
"Luigi Sottile is so good as Victor He creates a solid, doltish, bemused character who's as clueless as he is sweet."
"Talley Gale as Sibyl creates no idyll for anyone in her forthright, no-nonsense yet somehow lovable portrait of a woman."
"Proving the adage that there are no small roles is Taylor Congdon, memorable as Louise the maid."
"Costume Designer Sarah Cubbage is true to the era and characters, glamorous and swanky for the females, and sophisticated and gentlemanly for the males."
"Sets by Scenic Designer Roman Tatarowicz are detailed with art deco flourishes."
"It's all in good fun. And what fun it is."
The Philadelphia Inquirer
"Do yourself a favor and take in Private Lives."
"Hilarity among zingers."
"Noel Coward's inimitable masterpiece springs to life in a vibrant staging as nonpareil as the play itself."
"The show sweeps you away with splashy staging and the actors' masterful delivery of Coward's nonstop, ill-tempered repartee."
"Luigi Sottile and Talley Gale play the new spouses, Victor and Sibyl,
delightfully funny with their bodily movement and comic timing."
"It is well-traveled Broadway actor Matthew Floyd Miller as Elyot, and PSF star Eleanor Handley as Amanda who are gifted with most of Coward's zingers."
"Veteran PSF director Dennis Razze boosts the gaiety by creating three fast-paced acts with two short breaks."
"Set designer Roman Tatarowicz's Art Deco Paris apartment is eye-popping."
"The luscious costume design of Sarah Cubbage captures character."
The Morning Call
"Noel Coward's wickedly funny dialogue is brought to delicious life."
"Sparks fly and witty wordplay zings as the talented actors take the audience on
a highly entertaining ride that is as smart as it is funny."
"Matthew Floyd Miller is brilliant as the insouciant, self-indulgent and flippant Elyot, from whose mouth barbed one-liners drip like rain."
"As his worldly ex, Amanda, the excellent Eleanor Handley is every bit a match for Miller's Elyot. Her Amanda is self-assured, strong-willed and oh so cosmopolitan."
"Laugh-out-loud hilarious…."
"Tally Gale makes Elyot's new wife, Sybil, flighty and neurotic, her neediness a perfect contrast to Amanda's glib self-sufficiency."
"Luigi Sottile, last year's Shakespeare in Love, is nearly unrecognizable as Amanda's new husband, the uptight, pompous Victor, who seems to personify the stuffy tweed suit he wears."
"But the true joy is in experiencing Coward's sophisticated wit delivered by this wonderful cast."
"Dennis Razze's direction is on-spot and funny, bringing out every subtlety of the script."
"Astonishingly choreographed….The cathartic fight, brilliantly directed by fight coordinator J. Alex Cordaro."
"Roman Tatarowicz's set is beautifully elegant as well as very functional."
"Sarah Cubbage's wonderfully period costumes enhance the proceedings."
Features & Press Releases
Private Lives: The Director's Take
By Dennis Razze, Associate Artistic Director I first became aware of the playwright, composer, and raconteur Noël Coward when I was in college. The fledgling Allentown College theatre company produced his musical comedy Red Peppers. This 1936 musical in one act was part of a collection of plays known as Tonight at 8:30. The original production starred Noël […]
Artists
CAST
TAYLOR CONGDON
Louise
MEGAN FRY
u/s Amanda
TALLEY GALE*
Sibyl
ELEANOR HANDLEY*
Amanda
MATTHEW FLOYD MILLER*
Elyot
ILIA ISORELÝS PAULINO*
u/s Amanda
ALYSSA RAMSEY
u/s Sibyl
BO SAYRE
u/s Elyot
MATTHEW SMALDONE
u/s Victor
LUIGI SOTTILE*
Victor
JHALIL-MARQUIS YOUNGER
u/s Elyot
ARTISTIC TEAM
PATRICK MULCAHY
Producing Artistic Director
DENNIS RAZZE
Associate Artistic Director
CASEY WILLIAM GALLAGHER
Managing Director
J. ALEX CORDARO
Fight Director
SARAH CUBBAGE
Costume Designer
ERIC T. HAUGEN
Lighting Designer
ELEANOR HOLDRIDGE
Director
WILLIAM NEAL
Sound Designer
SHELBY NORTH*
Production Stage Manager
SEAN RAVITZ*
Assistant Stage Manager
LAURA STANCZYK, CSA
New York Casting
ROMAN TATAROWICZ
Set Designer
*Member of Actors' Equity Association, the Union of Professional Stage Actors and Stage Managers in the United States.