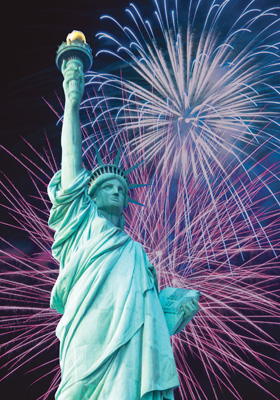 "A triumph for the stage…" – Time Magazine
Book by Terrence McNally
Music by Stephen Flaherty
Lyrics by Lynn Ahrens
Based on the novel RAGTIME by E.L. Doctorow
Directed by Dennis Razze
JUNE 13 – JULY 1 | MAIN STAGE
At the dawn of the 20th century, everything is changing…and anything is possible. Set in the volatile melting pot of New York, three distinctly American tales are woven together — that of a stifled but determined upper-class homemaker, an indomitable Jewish immigrant and a daring young Harlem musician — united by their courage and their pursuit of the American dream, against extraordinary odds. Ragtime was nominated for 13 Tony Awards and won for best score, book, and orchestrations. "Intoxicating" by the Associated Press, and "Explosive and thrilling!" by Bloomberg News, this acclaimed musical is an unflinching examination of human striving and a timeless celebration of the American spirit. Directed by Associate Artistic Director Dennis Razze, lauded for PSF's completely sold out Evita last summer, West Side Story (2016) and Les Miserablés (2015), this production will be a "must see." PG-13 for some offensive language.
Similar to the last three seasons, PSF expects the majority of performances for the musical to sell out. Order early for the best seating options.
Extras
Opening Night, Friday, June 15: Join the PSF actors and staff for a friendly post-show champagne toast.
Meet the actors for an informal talk-back after the show: Thursday, June 21 and 28.
Director's Dinners – specialty dinner themed to the play with behind-the-scenes insights: Sunday, June 17, 5:00pm, and Wednesday, June 27, 5:00pm.
 Audio described and open captioned performance: Wednesday June 27, 8:00pm.
Explore
Philadelphia Inquirer:
"Pennsylvania Shakespeare Festival's Ragtime Thrills."
"From its panoramic opening number to its stirring finale, Pennsylvania Shakespeare Festival's visually lush production, directed by Dennis Razze, does the show thrilling justice."
"Broadway-caliber talent."
"The staging is gorgeous."
"Blazingly relevant…"
Broad Street Review:
"Dazzling…a message of hope."
"Beautifully realized…"
"Excellent trio of principals…"
Reading Eagle:
"An artistic triumph."
"Thrilling…"
"Directed by Dennis Razze with stunning imagination and innovative staging choices, the show may be the boldest mounting ever attempted by the festival."
"
Vocally, it is sheer perfection."
"Razze releases the story's intrinsic power with understated yet shrewd stylistic solutions."
"As the song says: 'And there was distant music, skipping a beat, singing a dream.' That dream is here, at the festival. 'Ragtime' just may be a valiant historic leap for this cherished regional institution."
The Morning Call
"Ragtime is a power tour de force."
"Compelling story and music."
"Nkrumah Gatling is riveting as Coalhouse Walker Jr."
"Gatling's voice is sublime and Destinee Rea as Sarah, matches his power and puts her own stamp on songs like their duet 'Wheels of a Dream'."
"You can't wait to hear [Brandi Burkhardt's] glorious voice again."
"Inspired…"
"Powerful, entertaining look at the past."
The Lehigh Valley Press:
"…is yet another PSF blockbuster."
"Astounding production values, and a cast of lead performers who seemingly stepped from the Broadway stage onto the Main Stage at the Labuda Center."
"Fantastical, jaw-dropping, engrossing…"
"Don't miss it."
Features & Press Releases
THE DIRECTOR'S TAKE
The Director's Take By Dennis Razze Most people are familiar with the musical genre of ragtime because of the 1973 film The Sting, starring Robert Redford and Paul Newman. For the film, composer Marvin Hamlisch adapted the music of 1890s composer Scott Joplin, who was known as the "King of Ragtime" for his catchy compositions such […]
Artists
CAST
CARLY HUESTON AMBURN*
Evelyn Nesbit, Ensemble
BRENT BATEMAN*
Willie Conklin, Ensemble
BRANDI BURKHARDT*
Mother
JACK DOYLE*
Henry Ford, Ensemble
SAMUEL DRUHORA*
Tateh
NKRUMAH GATLING*
Coalhouse Walker Jr.
FREDDIE KIMMEL*
Harry Houdini, Ensemble
BRYANT MARTIN*
Father
MICHELE RAGUSA*
Emma Goldman
DESTINEE REA*
Sarah
ROD SINGLETON*
Booker T. Washington, Ensemble
RICHARD WHITE*
Grandfather, Ensemble
DAVID ANDRÉ
Ensemble
DOMINIQUE JENAE ATWATER
Sarah's Friend, Ensemble
MACIE BAZELLA
Little Girl
KYLE MICHAEL BROWN
Ensemble, u/s Booker T. Washington
SARITA CRAWFORD
Dance Co-Captain, Ensemble
MILES DEMARIA
Little Boy
EMMA FLISZAR
Little Girl
MEGAN FRY
Ensemble
BRANDON HEYWARD
Dance Co-Captain, Ensemble
SABRINA JOSEPH
Ensemble
ANGELA LAROSE
Ensemble, u/s Evelyn Nesbit
MALACHI LYNCH
Young Coalhouse
MAX MCCONNELL
Young Coalhouse
RENEE MCFILLIN
Ensemble
JAYCE MEREDITH
Ensemble, u/s Younger Brother
COLIN MOORE
Little Boy
GABE MOSES
Ensemble
ALYSSA RAMSEY
Ensemble
CATHY RITTER
Brigit, Ensemble, u/s Emma Goldman
KYRA ROBINSON
Ensemble
MEAGHAN ROSSI
Ensemble
BO SAYRE
Stanford White, u/s Henry Ford
DAVE SCHEFFLER
J.P. Morgan, Ensemble, u/s Grandfather
ANDREW SCOGGIN
Harry K. Thaw, u/s Father, u/s Willie Conklin, Ensemble
ALEXANDRA SÉMAN
Kathleen, Ensemble
JAMES STABP
Younger Brother
CAMERON I. STARLING-RONEY
Young Coalhouse
ABIGAIL STEPHENSON
Ensemble
ALANA THOMAS
Ensemble, u/s Sarah
MIGUEL ANGEL VASQUEZ
Ensemble, Coalhouse u/s
MARK YOWAKIM
Ensemble, Musician, u/s Tateh, u/s Houdini
ARTISTIC TEAM
PATRICK MULCAHY
Producing Artistic Director
DENNIS RAZZE
Director/Associate Artistic Director
CASEY GALLAGHER
Managing Director
STEPHEN CASEY
Choreographer
J. BENNETT DURHAM
Music Director
NATHAN DIEHL
Conductor
STEVE TENEYCK
Scenic Designer
COURTNEY IRIZARRY
Costume Coordinator
ERIC T. HAUGEN
Lighting Designer
MATT KRAUS
Sound Designer
J. ALEX CORDARO
Fight Director
GAIL EVE MALATESTA*
Stage Manager
CAROLYN REICH*
Assistant Stage Manager
LAURA STANCZYK, CSA
New York Casting
*Member of Actors' Equity Association, the Union of Professional Stage Actors and Stage Managers in the United States.