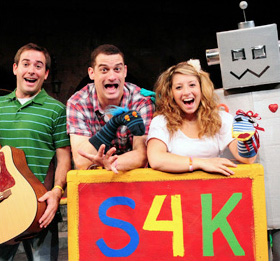 JULY 25 – AUGUST 4 | MAIN STAGE
"Much ado" with Shakespeare for children ages 4-10.
A high-octane, one-hour production designed for kids (and their grown-ups) to experience Shakespeare's language and characters. With exciting new content every year, S4K activates imaginations and tickles funny bones. This season, Team Shakespeare conjures something delightful from Much Ado About Nothing.
Associate Sponsors:
Linda Lapos and Paul Wirth
Lutron Electronics Company, Inc.
Harry C. Trexler Trust
Season Sponsor:
The Rider-Pool Foundation
Explore
The Morning Call:
"kids laugh along with the wacky Team Shakespeare"
"games, sing-alongs, puppets and crazy antics to gently introduce children to the pleasures of Shakespeare."
Artists
CAST
Andrew Kane*
Emiley Kiser
Brandon Meeks
Showbot:
Leo Bond
ARTISTIC TEAM
Playwright:
Erin Hurley
Director:
Andrew Kane*
*Member of Actors' Equity Association, the Union of Professional Stage Actors and Stage Managers in the United States.