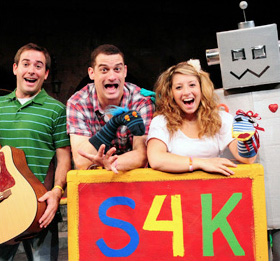 Actively Experience Shakespeare!
By Erin Hurley
Directed by Andrew Kane
JULY 27 – AUGUST 6 | MAIN STAGE
A high energy one-hour production designed for children ages 4 to 10 to actively experience Shakespeare's vibrant language and characters. With exciting new content every year, S4K activates imaginations and generates laughs for the whole family. This time around, Team Shakespeare hams it up with Prince Hamlet.
Explore
The Bethlehem Press
"Fast-paced action and lots of audience interaction."
"Director Andrew Kane, who plays the roles of Hamlet's uncle, King Claudius, and other parts, presents a fast-moving, sing-along version of the classic tragedy".
"Peter Danelski as Hamlet, Stroup as Gertrude, and Kane as Claudius are adept at physical comedy — just the thing to keep the attention of the young audience."
"Puppets and dialogue (put) a child-appropriate gloss on the details."
Artists
CAST
Andrew Kane*
Julia Stroup
Peter Danelski
ARTISTIC TEAM
Director
Andrew Kane
*Member of Actors' Equity Association, the Union of Professional Stage Actors and Stage Managers in the United States.
Videos
More information coming soon.