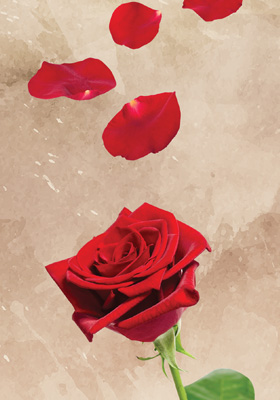 A Lush and Lavish Romantic Feast
Based on the screenplay by Marc Norman & Tom Stoppard
Adapted for the stage by Lee Hall
Music by Paddy Cunneen
Directed by Patrick Mulcahy
JULY 11 – AUGUST 5 | MAIN STAGE
Young Will Shakespeare is stumped by a crippling case of writer's block as he struggles to finish his new play. Unbeknownst to him, his muse is waiting in the wings – enter Viola De Lesseps, a theatre-loving aristocrat who isn't about to let her class or sex get in the way of her pursuits. Soon to be married off, and unwilling to accept her fate, she daringly dresses as a boy-player to win the role of Romeo in Will's new play. As the two fall in love, a romantic comedy of errors and a whirlwind affair unfurls that will ultimately inspire the creation of Shakespeare's tragic romantic masterpiece. Based on the highly acclaimed Academy Award-winning screenplay, this stage adaptation will be directed by Producing Artistic Director Patrick Mulcahy. PG-13
Extras
Opening Night, Friday, July 13: Join the PSF actors and staff for a friendly post-show champagne toast.
Meet the actors for an informal talk-back after the show: Thursday, August 2.
Audio described and open captioned performance: Wednesday, July 25, 8:00pm.
Savoring Shakespeare – specialty dinner themed to the play with behind-the-scenes insights: Sunday, July 22, 5:00pm (in combination with King Richard II.)
Shakespeare In Love and King Richard II will play in repertory with the same cast. Please order early for the best seating options.
Contemporary Context: Join us in the theater immediately following the 2:00pm performance on Sunday, July 29 for an engaging roundtable-style discussion on Shakespeare in Love and its journey from the Academy Award-winning film to 2018's most produced play in America. A panel of guest speakers and PSF artists will examine the evolution and adaptation of the Bard and his work from screen to stage, connecting Shakespeare's time to today. Free to all ticketholders.
Explore
Philadelphia Magazine
"PSF's Shakespeare in Love is a Midsummer Night's Dream"
"Sumptuous, high energy, extravagantly enjoyable."
"Part romance, part swashbuckling adventure, part bawdy farce, part speculative history…so well-built, it will charm even neophytes."
"Polished production, beautifully designed."
"One of the largest—and more impressively, most consistent and cohesive—ensemble casts I've seen in a long while…there's not a weak link."
"Onstage musicians contribute to the merriment."
"Mairin Lee (as Viola)…is lovely."
"Luigi Sottile is a swoon-worthy Shakespeare—passionate, handsome, gloriously at home in both classical verse and broad comedy. Not since the young Kevin Kline have I seen an actor who brought together all these elements in such sublime balance."
"There's plenty of magic in the air at the Pennsylvania Shakespeare Festival…wove its own midsummer night's dream-like spell."
Broad Street Review
"Lee and Sottile play a Viola and Will who could have leapt from the Bard's own pages."
"The play gushes with romance."
"A fine physical production…and even finer acting ensemble."
"Sottile…speaks the interpolated snatches of Shakespeare's verse with a ravishing cadence suggesting the kind of natural classical actor rarely seen today."
"Marvelous costumes."
"A charming respite from the summer heat."
The Morning Call
"Shakespeare Fest's 'Shakespeare in Love' charming, funny and poignant"
"A truly charming and warmly satisfying romantic comedy."
"Smartly staged by director Patrick Mulcahy…outstanding performances all around."
"Luigi Sottile is endearing and unpretentious."
"The lovely Viola De Lesseps, played with determination and intelligence by Mairin Lee."
"Lee's Viola is warm and enchanting."
"Sottile's Will is appealing and romantic."
"Hilarious."
"Justin Adams is winning as Will's friend and rival playwright Marlowe."
"Exciting and visceral sword fights directed by Mulcahy."
"Music…is effectively woven into the scenes and provides a connecting aural backdrop."
"The Elizabethan costumes by Lisa Zinni are excellent and the queen's amazing gown is in a league of its own."
Reading Eagle
"Mulcahy's often compelling staging choices and tender direction ultimately transform the piece into an evening's entertainment worthy of its source material."
"More than a love story between a young William Shakespeare (a dashing and very funny Luigi Sottile) and the wealthy Viola De Lesseps (Mairin Lee, quite wonderful)…the play becomes…a celebration of the artistic process."
"Unexpectedly moving and lovely…this truly gifted group of players is more than up to the task."
"Richard B. Watson is hilarious as Henslowe."
"The set design by Daniel Conway is a gorgeous and efficient evocation of a stage one would have seen in the Elizabethan era. Lisa Zinni's period costumes are utterly dazzling…beautifully done."
"The superb Justin Adams… discovers something in the character that touches the heart. Marlowe, in turn, honors the legacy of Shakespeare."
WHYY:
"Delightful… classy Elizabethan fun, and in just the right venue."
"The play is a delight, especially in the high-spirited production directed by the festival's leader, Patrick Mulcahy."
"A super-sized gift."
"Charming…performed with haunting beauty."
"Elizabethan-tinged music throughout the production sets perfect moods."
The Lehigh Valley Press:
"Insightful, joyful and wonderful."
"PSF Producing Artistic Director Patrick Mulcahy hits all the right notes and tropes in what is the best Shakespeare production, albeit a Shakespeare-themed production, in years at PSF. This is a monumental achievement."
"So many extraordinary and marvelous scenes… boisterous and bountiful fun."
"A delight from beginning to end."
"Excellent actors…thrilling sword fights … has all you could ask for."
"Sottile's is a scrupulously-nuanced performance."
"Lee is…a strong, independent woman."
"The bejeweled sumptuous costumes…are dazzling."
"Superb on so many levels."
"Will enhance your appreciation of the Bard."
The Philadelphia Inquirer
"Electric…"
"Luigi Sottile is a strong-voiced Shakespeare —- frustrated, angry, fearful, brave, amorous, sardonic — and you always believe him."
"Charming…"
"Clever and fun loving."king richard
Features & Press Releases
Artists
CAST
JUSTIN ADAMS*
Kit Marlowe
STARLA BENFORD*
Queen Elizabeth
CHRISTOPHER COUCILL*
Fennyman, Ensemble
CHRISTIAN COULSON*
Lord Wessex
MAIRIN LEE*
Viola De Lesseps
CHRISTOPHER PATRICK MULLEN*
Richard Burbage, Barman
BRANDON J. PIERCE*
Ned Alleyn
LUIGI SOTTILE*
William Shakespeare
WAYNE S. TURNEY*
Edmund Tilney, Sir Robert De Lesseps, Boatman
JO TWISS*
Viola's Nurse
RICHARD B. WATSON*
Philip Henslowe
BRANDON EDWARD BURTON
Peter, Proteus, Ensemble
MATTHEW CAMARDO
Sam, Ensemble
BUDDY IGOR
Spot
LARRY LIPKIS
Musician/Ensemble
MEGAN LOMAX
u/s Queen
ELI LYNN
Musician/Ensemble
J. DANE MCMICHAEL
Nol, Ensemble, Musician
KELLAN MCMICHAEL
John Webster, Ensemble, u/s Henslowe
RACHEL MULCAHY
Molly, Ensemble, Musician
LARA NOTARIANNI
Ensemble
BO SAYRE
Robin, Lambert, Guard, Ensemble, u/s Burbage
DAVE SCHEFFLER
Wabash
ANDREW SCOGGIN
Ralph, Catling, Ensemble, u/s Marlowe
ALEXANDRA SÉMAN
Ensemble, u/s Viola
WILLIAM THATCHER
Musician
DANIEL TRACY
Actor, Valentine, Guard, Ensemble, Musician
MARK YOWAKIM
Abraham, Frees, Ensemble, u/s Ned Alleyn
ARTISTIC TEAM
PATRICK MULCAHY
Director, Producing Artistic Director
DENNIS RAZZE
Associate Artistic Director
CASEY GALLAGHER
Managing Director
DANIEL CONWAY
Scenic Designer
LISA ZINNI
Costume Designer
ERIC T. HAUGEN
Lighting Designer
LIZ FILIOS
Music Director, Composer and Sound Designer
ERIN SHEFFIELD
Choreographer
ALISON HASSMAN*
Production Stage Manager
EMILY J. BAVER*
Assistant Stage Manager
LAURA STANCZYK, CSA
New York Casting
*Member of Actors' Equity Association, the Union of Professional Stage Actors and Stage Managers in the United States.