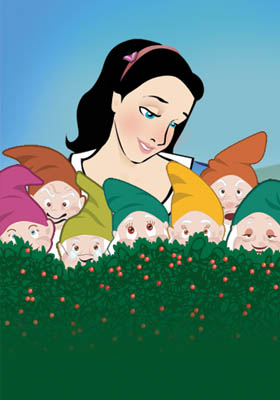 By Michele L. Vacca
Directed by Erin Hurley
JUNE 1 – AUGUST 4 | SCHUBERT THEATER
Inner beauty triumphs in this engaging adaptation of the Brothers Grimm classic. The world's most delightful dwarfs welcome Snow White and help the prince vanquish the vengeful queen. Mirror, mirror on the wall – meet the cast and have a ball!
Sponsors:
Steve & Jane Auvil
Explore
The Morning Call:
"An enjoyable and light-hearted romp."
"Lovable."
"A riot."
"Keeps the little ones… enthralled."
East Penn Press:
"An emotional winner."
"Delights its audience and brings them to tears."
"Leah Poyo as Snow White is so sunny, she'd light up the room even if she weren't 'fairest in the land'."
"Charming…hysterical."
Artists
CAST
Narrator (Voice-over):
Gerard J. Schubert, OSFS
The Wicked Queen:
Patti-Lee Meringo
The Magic Mirror:
Mark Marano
Snow White:
Leah Poyo
Prince Robert:
Brendan Moser
Huntsman:
John Cappelletti
Boffo the Boss:
Andrew Goebel
Roscoe the Grouch:
Peter Danelski
Good Time Charlie:
Sarah DeNight
Lazy Leroy:
Matt Kleckner
Wheezy Wilbur:
Paige Kresge
Milquetoast:
Erick J.Huertas
Opie:
Henry Gibson
ARTISTIC TEAM
Director:
Erin Hurley
Set Designer:
Bob Phillips
Costume Designer:
Amy E. Best
Lighting Designer:
Elizabeth Elliott
Sound:
Matthew Given
Producing Artistic Director:
Patrick Mulcahy
*Member of Actors' Equity Association, the Union of Professional Stage Actors and Stage Managers in the United States.