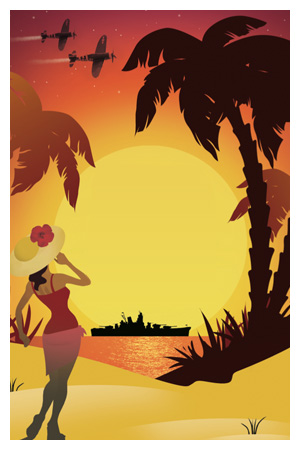 Tony Award Winner for Best Musical
Music by Richard Rodgers
Lyrics by Oscar Hammerstein II
Book by Oscar Hammerstein II and Joshua Logan
Adapted from the Pulitzer Prize-winning novel "Tales of the South Pacific" by James A. Michener
Directed by Dennis Razze
JUNE 15 – JULY 3 | MAIN STAGE
Opening PSF's 20th anniversary season is Rodgers and Hammerstein's thrilling musical based on the Pulitzer Prize-winning novel by James Michener. A young U.S. Navy nurse falls in love with an island plantation owner during World War II. The incredibly romantic score includes "Some Enchanted Evening," "Bali Ha'i," and "There is Nothin' Like a Dame." Winner of seven 2008 Tony Awards, South Pacific is appropriate for the entire family.
Sponsor:
Alvin H. Butz, Inc.
Co-Sponsors:
Dr. & Mrs. Frank J. Szarko
Director Sponsors:
Linda Lapos & Paul Wirth
Explore
The Morning Call:
…"Truly an enchanted evening… Razze has set impossibly high standards for the rest of the season!"
"(William) Michals has a gorgeous, powerful voice."
"Schulenburg is a sheer delight."
"Inspired."
The Philadelphia Inquirer:
"Michals' roof-raising bass-baritone swells … in such lovestruck classics as 'Some Enchanted Evening.'"
"This production provides many delights… well worth the ride out to Allentown and off to Bali Ha'i."
Lehigh Valley Press
"…A towering triumph."
"Schulenburg is an exuberant and charming sprite.. a perfect counterbalance to Michals' rock-solid turn."
"(Anthony) Lawton … turns 'There Is Nothin' Like A Dame' into a bravura performance."
"Amy Jo Phillips as Bloody Mary creates the storyline's exotic locale with a mysterious and mesmerizing 'Bali Ha'i.' If words and music can transport an audience, this one does."
The Reading Eagle
As Emile, William Michals acts with conviction and sings to perfection. His renditions of 'Some Enchanted Evening' and 'This Nearly Was Mine' bring the performance to dazzling emotional heights."
As Nellie, Marnie Schulenburg is downright terrific… she is the whole package. She conveys an authentic sweetness that proves irresistible. We understand at once why Emile falls for her. He craves the joy she naturally radiates.
"Anthony Lawton is a great Luther Billis."
"These actors are truly remarkable, with beautiful voices and compelling moments that can carry one toward the hypnotic glow of a tropical sunset."
Artists
CAST
Ngana:
Kylee Wigfield
Jerome:
Erik Zachary Pirela
Henry/Sailor:
Terrence Clowe*
Ensign Nellie Forbush:
Marnie Schulenburg*
Emile De Becque:
William Michals*
Bloody Mary:
Amy Jo Phillips*
Liat: Kiyo Takami
Seabee:
Michael Hogan
Seabee:
James Stabp
Seabee:
Thomas Guastavino
Seabee:
Erick Huertas
Seabee:
John Cappelletti
Sailor:
Brandon J. Martin
Bloody Mary's Assistant:
Betina Dalope
Bloody Mary's Assistant:
Gabby Dalope
Luther Billis:
Anthony Lawton*
Stewpot:
David Garry*
Professor:
Jacob R. Dresch
Yeoman Herbert Quale:
Daniel Bontempo
Lead Nurse:
Rachel Sommons
Lt. Joseph Cable:
Spencer Plachy*
Cmdr.William Harbison:
David Jack
Capt.George Brackett:
Dave Scheffler
Nurse:
Patti-Lee Meringo
Nurse:
Katie Wexler
Bali Hai Girl/Nurse:
Rhianna Radick
Dinah Murphy:
Lauren Cupples
Janet McGregor:
Kaitlyn Jane Kurowski
Bob McCaffrey:
Matt Kleckner
Lt.Buzz Adams:
Keith Hines Jr.*
Marine, Shore Patrolman:
Jeffrey Mindock
ARTISTIC TEAM
Director
Dennis Razze
Choreographer
Stephen Casey
Musical Director/Conductor
Nathan Diehl
Scenic Designer
Will Neuert
Lighting Designer
Eric Haugen
Costume Designer
Sam Fleming
Sound Designer
Matthew Given
Stage Manager
Robin Grady*
Director Sponsors
Linda Lapos & Paul Wirth
South Pacific is presented through special arrangement with R&H Theatricals: www.rnhtheatricals.com
*Member of Actors' Equity Association, the Union of Professional Stage Actors and Stage Managers in the United States.