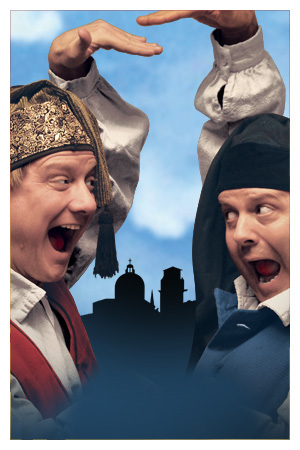 Double Double Trouble Trouble
By William Shakespeare
Directed by Russell Treyz
JUNE 22 – JULY 17 | SCHUBERT THEATRE
Poor Antipholous and his servant Dromio: everywhere they go, they're told they just left! Separated at birth, two sets of long-lost twins are loose in the same town. Mistaken identities make for hilarious complications until chaos gives way to clarity and mayhem to mirth; when brother is reunited with brother, lover with lover, and a town turned upside down is right-side up again.
Sponsor:
Dr. and Mrs. Frank J. Szarko
Co-Sponsor:
Keenan-Nagle Advertising, Inc.
Director Sponsors:
Linda Lapos & Paul Wirth
Explore
The Morning Call:
"Inspired, playful and full of fast-paced physical clowning…sheer merriment."
"…From the moment DeSales alumnus Steve Burns walks onto the Schubert stage as one of the twin servants, both named Dromio, the stage is his."
"Chris Faith is an equally marvelous and inventive clown… And when the two Dromios finally meet, there is instant comic combustion."
"As Antipholus of Syracuse, one of Egeon's twin sons, Ian Bedford is both masterful and charmingly befuddled."
The Lehigh Valley Press
"Russell Treyz, who directs with a refined intensity, gives full reign to the comedic possibilities of his actors. … The results are, pardon the pun, 'Treyz amusement.'"
"(Steve) Burns' every hand and arm motion, every gesture, every pore seem to emphasize every word. He even rocks his body rhythmically to the beats of the dialogue. No one can rivet a right eye like this guy. He's also quite a tumbler –and a tummler."
"(Chris) Faith, who has become a PSF go-to guy for merriment … is equally hilarious as Dromio of Ephesus. He has impeccable timing and is master of the double-take."
"Carl N. Wallnau brings his unflappable aplomb to the role of Egeon, a merchant of Syracuse."
PlayShakespeare.com
"PSF (pairs) Shakespeare's dialogue with fantastic slapstick, numerous visual gags, and even some low-key improvisation. They are larger-than-life performances for a larger-than-life production, and an excellent showcase for the Festival's twentieth anniversary."
"Steve Burns (formerly of the hit children's TV show Blue's Clues) as Dromio of Syracuse has an excellent command of the language, comic timing, and slapstick stunts that are the highlight of a likewise gifted ensemble. Ian Bedford as Antipholus of Syracuse musters a similar excellence to match him, and the two make a highly entertaining comic duo."
"Treyz has set his production in "Fable-land", and costume designer Marla Jurglanis provides lavish costumes to match: gorgeous period-inspired numbers that illustrate the owners' wealth and influence, with a few nods to the multiculturalism of the Renaissance Mediterranean."
Artists
CAST
Egeon, a merchant of Syracuse:
Carl N. Wallnau*
Duke of Ephesus:
Brandon Meeks
Gaoler/Headsman:
Brent Yoshikami
First Merchant:
Pete Danelski
Antipholus of Syracuse:
Ian Bedford*
Dromio of Syracuse:
Steve Burns*
Dromio of Ephesus:
Chris Faith*
Adriana:
Eleanor Handley*
Luciana:
Lauren Orkus*
Antipholus of Ephesus:
Thomas Matthew Kelley*
Balthazar:
Brent Yoshikami
Luce:
Ryan Yandersits
Angelo:
Gordon Gray
Second Merchant:
Ryan Yandersits
Officer:
Adam DeLancey
A Courtesan: Abbie Richards
Pinch:
Brent Yoshikami
Emelia:
Anne Lewis*
Servant:
Pete Danelski
Officer:
Brandon Meeks
Officer:
Gordon Gray
Officer:
Pete Danelski
Officer:
Ryan Yandersits
ARTISTIC TEAM
Director
Russell Treyz
Scenic Designer
Bob Phillips
Lighting Designer
Thom Weaver
Costume Designer
Marla Jurglanis
Wig & Makeup Designer
Michael Ferguson
Sound Designer
Matthew Given
Stage Manager
Stacy R. Norwood*
Producing Artistic Director
Patrick Mulcahy*
*Member of Actors' Equity Association, the Union of Professional Stage Actors and Stage Managers in the United States.