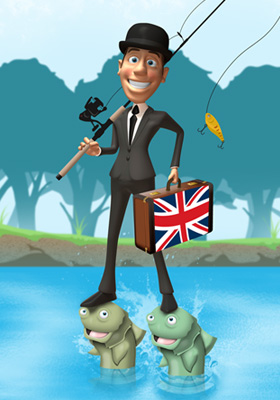 Pure comedic pleasure
By Larry Shue
Directed by Jim Helsinger
JULY 8 – AUGUST 2 | MAIN STAGE
A sidesplitting and heart-warming comedy brimming with misunderstanding and mischief, The Foreigner may be one of the funniest American plays ever written. A pathologically shy Englishman named Charlie takes a much-needed holiday to a rural fishing lodge in Georgia with his good friend, Froggy. When Froggy informs the other inhabitants of the lodge that Charlie speaks no English in order to avoid unwanted conversation, the cast of outrageous characters freely reveals to him one secret after another, unleashing intrigue, outrage, and a once-in-a-lifetime opportunity. Inspired and hilarious, like last season's Lend Me a Tenor, and, like Tenor, directed by Jim Helsinger. Ages 8+
Extras
Opening night, Friday, July 10. Join the PSF actors and staff for a friendly post-show champagne toast.
Opening Doors Gala: the Sunday July 26 7:30pm show is a special benefit event for Neighborhood Housing Services of the Lehigh Valley, Inc. Tickets are $75 and $50, and available through the PSF Box Office and online.
Meet the actors for an informal talkback after the show Thursday, July 30.
Dinner with Dennis and Deb: specialty dinner themed to the play with behind-the-scenes insights Friday, July 10th, 5:30PM.
 Audio-described performance on Saturday, August 1
The Foreigner and Henry V will play in repertory with the same cast. Please order early for the best seating options.
An Audio Described Performance of The Foreigner will be held at 2pm on Saturday, August 1st. This performance is a part of the Lehigh Valley Arts Council's Arts & Access Program, a yearlong celebration of the 25th Anniversary of the Americans with Disabilities Act.
Explore
"Hilarious."
"The play gradually crescendos into such a pitch of hilarity that the audience broke into delirious applause at some points on the night I saw it."
"…Funny, heartwarming and believable due to the actors' uniformly fine ensemble work."
"All of this takes place in a realistic, exquisitely detailed set designed by Bob Phillips, with on-target period costumes by Marla Jurglanis and a perfect lighting design by Thom Weaver."
"If you're looking for an evening of pure escape, "The Foreigner" at Pennsylvania Shakespeare Festival offers non-stop laughs from start to finish."
"Pure comic genius."
"Tons of Laughs"
"Audience members are in for a treat…"
Jim Helsinger's direction of the play is spot on as each character hits the timing of the punch lines perfectly. The stunning set design by Bob Phillips will leave you feeling as though you have just spent the weekend inside Betty Meeks' infamous Fishing Lodge.
"Side-splitting comedy…a definitive interpretation."
"The production crackles with energy."
"Fun The Foreigner is…. This clever, smart, play is as relevant, perhaps more so, than ever."
Features & Press Releases
Why Jim Helsinger: Director of The Foreigner is No Stranger to PSF
Jim Helsinger: Director of The Foreigner is No Stranger to PSF Editor's note: As director of marketing and public relations for PSF since its inception, I've seen most of Jim Helsinger's work for the Festival. I couldn't resist the opportunity to ask him a few questions during a break from rehearsals for The Foreigner. LH: One […]
Setting the Stage
Setting the Stage Here are the Playwright Larry Shue's instructions from the script. Act 1, scene 1: In the darkness, rain and thunder. As the lights come up, we find ourselves in what was once the living-room of a log farmhouse, now adapted for serve as a parlor for paying guests—middle-income summer people, mostly, who […]
Artists
CAST
Sgt. Froggy LeSueur:
Carl N. Wallnau*
Charlie Baker:
Jacob Dresch*
Betty Meeks:
Jane Ridley*
Rev. David Marshall Lee:
Zack Robidas*
Catherine Simms:
Marnie Schulenburg*
Owen Musser:
Anthony Lawton*
Ellard Simms:
David Button
Ensemble:
Valerie Berger
Ensemble:
Dan Hodge*
Ensemble:
Patrick Golebiowski
Ensemble:
Brian McCann
Ensemble:
Dane McMichael
Ensemble:
Wayne S. Turney*
Ensemble:
William Zielinski*
ARTISTIC TEAM
Playwright:
Larry Shue
Director:
Jim Helsinger
Scenic Designer:
Bob Phillips
Costume Designer:
Marla Jurglanis
Lighting Designer:
Thom Weaver
Sound Designer:
Kristian Derek Ball
Dialect Coach:
Jane Ridley
Production Stage Manager:
Alison Hassman*
Assistant Stage Manager:
Carolyn Reich*
Producing Artistic Director:
Patrick Mulcahy
*Member of Actors' Equity Association, the Union of Professional Stage Actors and Stage Managers in the United States.