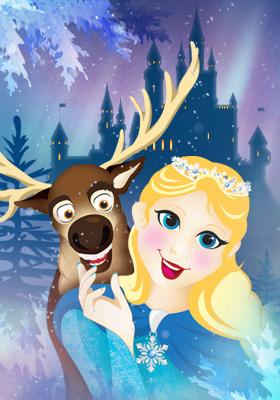 By Brandon E. McLauren
Adapted from Hans Christian Andersen
Directed by Pirronne Yousefzadeh
JUNE 2 – AUGUST 5 | SCHUBERT THEATRE
With a charming cast of forest friends, a young princess brings the warmth of healing to the cold—and discovers her own strength as she seeks to help a loved one. An enchanting new adaptation of Hans Christian Andersen's The Snow Queen designed to delight families with kids from three to tween. Children can get a front row seat for the fun with on-stage carpet seating, and everyone can meet the cast after every performance for autographs and pictures.
Extras
Meet the cast after every performance for pictures and autographs.
New for 2017! A Relaxed Performance is a sensory-friendly show which creates a judgmentfree and inclusive environment for patrons with a wide range of sensory and communication differences, including individuals on the autism spectrum, young children, and families who would benefit from a relaxed experience. Saturday, June 10.
 Audio-described performance on Saturday July 29th 10am.
 Sign-Interpreted performance on Saturday July 29th at 10am.
Sponsors:
Steve & Jane Auvil
Co-Sponsors:
Dr. James & Penny Pantano
Explore
The Northampton Press
"One of the best children's productions I have seen at Pennsylvania Shakespeare Festival."
"A wonderful time from start to finish."
PSF Patrons
"An adventurous interactive play that will melt your heart."
"The live music adds a creative spin to this adorable show."
Artists
CAST
JULIANNE SCHAUB
Reindeer
JAMES "BO" SAYRE
King
EMILIE GUBLER
Queen
DANE MCMICHAEL
Trickstone the Trickster
ILIA PAULINO
Snow Queen
ALLY BORGSTROM
Ice Woman 1
VICTORIA SCOVENS
Ice Woman 2, Robber Mom
ANDREW SCOGGIN
Robber Dad
KERI ANN MOYNIHAN
Robber Girl
MICHAEL COVEL
Troll
ARTISTIC TEAM
PATRICK MULCAHY
Producing Artistic Director
DENNIS RAZZE
Director/Associate Artistic Director
CASEY GALLAGHER
Managing Director
PIRRONNE YOUSEFZADEH
Director
STEVE TENEYCK
Scenic Designer
KATHERINE FRITZ
Costume Designer
ELIZABETH ELLIOTT
Lighting Designer
LIZ FILIOS
Sound Designer/Music Designer
LIZZIE NIXO
Stage Manager
*Member of Actors' Equity Association, the Union of Professional Stage Actors and Stage Managers in the United States.