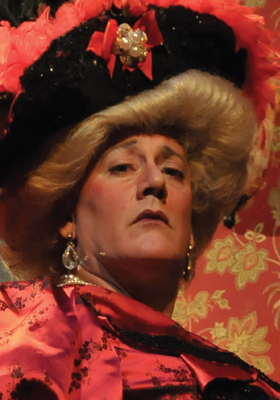 Rousing, romantic escapades.
By Oscar Wilde
Directed by Jim Helsinger
JULY 10 – AUGUST 4 | MAIN STAGE
Effervescent romantic exploits meet scintillating social satire in one of the most celebrated comedies of all time. Jack and Algernon pursue countryside adventures and the young ladies who have won their hearts. Mistaken (and falsified!) identities prevail in this delicious comedy of manners until the young gents cross the formidable Lady Bracknell, played by PSF veteran Jim Helsinger, giving audiences laughs to last a lifetime. Recommended for ages 6+.
Extras
Opening night, Friday, July 12. Join PSF staff and acting company for a friendly post-show champagne toast.
Dinner with Dennis & Deb. Delicious and themed to the play, with behind-thescenes insights. Sunday, July 21.
Meet the actors for an informal talk-back after the show on Thursday, Aug. 1.
The Importance of Being Earnest and Measure for Measure will play in repertory with the same cast.
Explore
Lehigh Valley Press
"You are in for a 'Wilde' time of laughter."
"Great theater."
"Jim Helsinger directs the cast with an impeccable sense of comedic timing, staging and pacing."
"A delicious concoction of word-play, subterfuge and tom-foolery."
"One of the best productions ever presented at PSF."
"If you're going to see one show this summer Earnest should be the one"
"Don't miss it."
The Morning Call
"Delightfully fun."
"Wilde is unsurpassed for the number and the quality of witty lines packed within one play. The plot never dates."
"You will certainly enjoy the Wilde wit displayed here."
WHYY/Newsworks
"As stylish – and as funny – as the 2011 Broadway revival."
"Lisa Zinni… works wonders dressing all the show's class-conscious characters."
"Underlying warmth is what makes this production work so well."
"[Zack] Robidas and [Blake] Ellis are excellent."
"The moment the sleek [Alexie] Gilmore takes the stage in the first act, the production brightens…and Partin manages to out-coquette Gilmore."
The Reading Eagle
"Dazzling and hilarious."
"Lavish, impeccably directed and performed."
"Helsinger has assembled a cast that seems destined to act in this play. The three acts go like the wind, and, like a perfect soufflé, seem effortless, weightless and completely delicious."
"Scenic designer Bob Phillips' three breathtaking sets are worth a trip to the festival to see, as are the stunning costumes by Lisa Zinni."
"The sensuous experience Wilde himself would have loved."
Artists
CAST
Lane
Greg Wood*
Algernon Moncrieff
Zack Robidas
John Worthing, J.P.
Blake Ellis*
Lady Bracknell
Jim Helsinger*
Hon. Gwendolen Fairfax
Alexie Gilmore
Cecily Cardew
Erin Partin*
Miss Prism
Suzanne O'Donnell*
Rev. Canon Chasuble, D.D.
Wayne S. Turney*
Merriman
Brad DePlanche*
Maid
Lauren Mulcahy
ARTISTIC TEAM
Director
Jim Helsinger
Associate Director
Matt Pfeiffer
Scenic Designer
Bob Phillips
Lighting Designer
Thom Weaver
Costume Designer
Lisa Zinni
Sound Designer
Matthew Given
Accent Coach
Jane Ridley
Production Stage Manager
Stacy Renee Norwood*
Assistant Stage Manager
Alison Hassman*
Producing Artistic Director
Patrick Mulcahy
*Member of Actors' Equity Association, the Union of Professional Stage Actors and Stage Managers in the United States.
Photos
Edit | Quick Edit | Trash | View | Duplicate