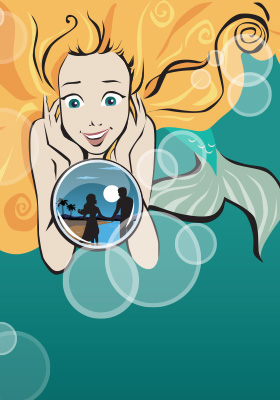 By Linda Daugherty
Directed by Taibi Magar
JUNE 3 – AUGUST 6 | SCHUBERT THEATRE
The longing in her heart brings adventure, mystery, and eventually… love. Life in the vast sea cannot contain a young mermaid's curiosity, and the lessons she learns along the way lead her to seek the fulfillment of her dreams, come what may. Imaginative children's theatre inspired by Hans Christian Andersen's beloved fairy tale.
Extras
Meet the cast after every performance for pictures and autographs.
 Sign-Interpreted performance on Saturday July 30th at 10am.
Explore
The Morning Call
"Magical 'Little Mermaid' a visual feast at PSF"
"…stunning visually as well as a lot of fun."
"Director Taibi Magar has created a magical production for her festival debut."
The Lehigh Valley Press
"The Little Mermaid" is exciting, hilarious and stunning. Steven TenEyck's set design is breathtaking."
"Olivera Gajic's costume design is unforgettable. The mermaids' dresses are gorgeous, with imaginative tails and hair to match. The Sea Witch's costume is elaborate and most memorable, with a long, flowing, black sequined dress that amasses the whole stage, flowing in the ocean current, and gray hair molded into the shape of a ship."
"The show has a little bit of everything: drama, happiness, singing and dancing. It is a wonderfully-acted, cheerful and modern take on a classic tale."
Features & Press Releases
The Little Mermaid to Open at Pennsylvania Shakespeare Festival
FOR IMMEDIATE RELEASE Lisa Higgins • 610.282.WILL, ext. 4 June 1, 2016 Lisa.Higgins@pashakespeare.org Center Valley, PA –With a vibrant cast, imaginative sets and inventive costumes, The Little Mermaid opens at Pennsylvania Shakespeare Festival June 3 and runs through August 6 in the Schubert Theatre at the Labuda Center for the Performing Arts at DeSales University. Appropriate for children ages three through twelve, the […]
Artists
CAST
JUSTIN ARIOLA
Sea King
ALLY BORGSTROM
Pearl
CORINA RAINE CONNELLY
Anemone
ANELISE DIAZ
Coral
BRENDAN DOYLE
Puffer
BETH EGAN
Great Mother/Luna
RYAN HAGAN
Yorick
STEPHANIE HODGE
Princess Mariana
MARCEL LOGAN
Timothy
DANE McMICHAEL
Prince Stefan
ILIA PAULINO
Sea Witch
JAMES "BO" SAYRE
William
ARTISTIC TEAM
LINDA DAUGHTERY
Playwright
TAIBI MAGAR
Director
STEVEN TENEYCK
Scenic Designer
OLIVERA GAJIC
Costume Designer
ELIZABETH ELLIOTT
Lighting Designer
KRISTIAN DEREK BALL
Sound Designer
EMILY J. BAVER
Stage Manager
*Member of Actors' Equity Association, the Union of Professional Stage Actors and Stage Managers in the United States.