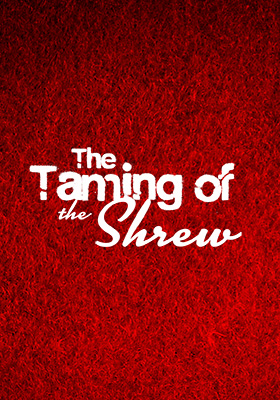 The Original Battle of the Sexes Comedy
By William Shakespeare
Directed by Matt Pfeiffer
JULY 13 – AUGUST 7 | MAIN STAGE
A wealthy merchant is besieged with suitors for his daughter, Bianca—but even a rich dowry cannot attract anyone to court her fiery older sister, Katherina! Enter Petruchio, the swaggering adventurer who seeks a wife with a fortune and "will woo this wildcat." With Bianca's suitors waiting to battle for her heart, Petruchio and Katherina marry, but who will tame whom in the zaniest and funniest of Shakespearean comedies? Ages 8+
Pennsylvania Shakespeare Festival's productions of Julius Caesar, The Taming of the Shrew, and Love's Labour's Lost are part of Shakespeare in American Communities, a program of the National Endowment for the Arts in partnership with Arts Midwest.
Extras
Prologues: join us for insights into the play in an informal setting. Free. Held in the theatre 45 minutes prior to curtain.
Opening Night, Friday, July 15: Join the PSF actors and staff for a friendly post-show champagne toast.
Meet the actors for an informal talk-back after the show Thursday, August 4th.
Savoring Shakespeare: Specialty dinner themed to the play with behind-the-scenes insights 5:00pm, Friday, July 29th; Saturday, August 6th, and Sunday, August 7th.
The Taming of the Shrew and Blithe Spirit will play in repertory with the same cast. Please order early for the best seating options.
Contemporary Context: Join us in the theater immediately following the 2pm performance on Saturday, July 30th for an engaging roundtable-style discussion on the relationship dynamics at work in the play. A panel of guest speakers and PSF artists will examine the societal undercurrents of Kate and Petruchio's story through the perspective of different generations of women connecting Shakespeare's time to today. Free to all ticketholders.
Sponsor:
Sponsored in memory of Fr. Gerard J. Schubert, OSFS, by a grateful DeSales University Community
Co-Sponsors:
David B. & Patrina L. Rothrock
Explore
Paul Willistein, Lehigh Valley Press
"Handley's Katherina emphasizes sophistication, elegance and a strong-will born of intellectual rigor and not mere stubbornness, recalcitrance, or plain orneriness."
"This is a delightful 'Shrew, a light-hearted Shrew,' an intelligent 'Shrew and a robust Shrew' that's immensely entertaining."
"As Petruchio, Ian Merrill Peakes … brings a muscular athleticism to bear, matched by a bright-eyes charisma that would be difficult for anyone to resist. Peakes' Petruchio is a charmer."
"…shear fun. Get ready to laugh and break into spontaneous applause of delight at this joyful reinterpretation of a classic."
Howard Shapiro, WHYY/Newsworks
"…beautifully acted"
"gracefully directed by Matt Pfeiffer with sure-fire"
"This is a 'Shrew' made mostly for laughs, and I laughed a lot."
Ellen Wilson Dilks, delcoculturevultures.com
"There's nothing tame about PSF's 'Taming of the Shrew'… rollicking"
"truly gifted comedic actors"
"Eleanor Handley, a lovely lithesome Brit, sends sparks across the stage as the willful Kate. She's smart and strong and has no intention of being anyone's chattel."
"Ian Merrill Peakes … is a force to be reckoned with…. It is a magnificent performance."
"The entire ensemble goes for comedy gold—and wins."
Tim Dunleavy, dcmetrotheaterarts.com
"Pfeiffer's raucous production delivers those laughs, over and over again.
"a top-notch Shakespearean ensemble,
"a series of verbal and physical jousts that give the show a huge blast of energy."
"Handley and Peakes give as good as they get, and it's a lot of fun seeing these two face off against each other."
Reading Eagle
"Hilarious and wise"
"Brilliant"
"A marvelous Eleanor Handley"
"Her journey is fascinating to watch, and her scenes with Petruchio, played by Ian Merrill Peakes with a combination of danger, lunacy and tenderness, are crackling with electricity and the physicality of kids sorting out their positions on the playground"
"Magical"
"I never dreamed I would laugh so hard at a production of this play"
Features & Press Releases
THE TAMING OF THE SHREW: THE ORIGINAL BATTLE OF THE SEXES COMEDY
The Original Battle of the Sexes Comedy By Heather Helinsky, Dramaturg Imagine waking up one morning and your independent and sovereign nation is being threatened by the greatest military force in the world—and a woman is the ruler of your nation. In mid-July 1588, the people of England found themselves surrounded by seven miles of 130 Spanish […]
Artists
CAST
ALEX J. BECHTEL*
Hortensio
ALLY BORGSTROM
Bianca
JOYCE COHEN*
Pedant
CORINA RAINE CONNELLY
Ensemble
ANELISE DIAZ
Enselmble
BRENDAN DOYLE
Curtis
GRACE GONGLEWSKI*
Baptista
ELEANOR HANDLEY*
Katherina
ERIC HISSOM*
Grumio
DAN HODGE*
Tranio
DANE McMICHAEL
Biondello
ILIA PAULINO
Ensemble
KAREN PEAKES*
Widow/Nathaniel/Tailer
IAN MERRILL PEAKES*
Petruchio
BRANDON J. PIERCE*
Lucentio
DAVE SCHEFFLER
Vincentio
CARL N. WALLNAU*
Gremio
ARTISTIC TEAM
WILLIAM SHAKESPEARE
Playwright
MATT PFEIFFER
Director
GINA LAMPARELLA
Associate Director
DAVID P. GORDON
Scenic Designer
OLIVERA GAJIC
Costume Designer
THOM WEAVER
Lighting Designer
ALEX J. BECHTEL*
Composer/Sound Designer/Music Director
DALE ANTHONY GIRARD
Fight Director and Choreographer
ALISON HASSMAN*
Production Stage Manager
CAROLYN REICH*
Assistant Stage Manager
*Member of Actors' Equity Association, the Union of Professional Stage Actors and Stage Managers in the United States.