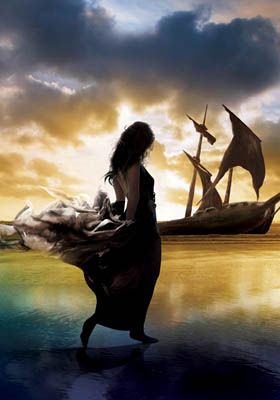 "We are such stuff as dreams are made on."
By William Shakespeare
Directed by Jim Helsinger
JUNE 20 – JULY 15 | SCHUBERT THEATER
Banished from his dukedom by his usurping brother, Prospero lords over an enchanted isle where he tutors his cherished daughter Miranda and conjures spirits of the air and monsters of the earth. Prospero raises a tempest that shipwrecks his enemies on the island. When Miranda unexpectedly falls in love with one of the castaways, Prospero is reawakened to the better angels of his nature. Shakespeare's last play, and his final testament to the redeeming power of love. An enchanting, ageless spectacle. Recommended for ages 6+.
Sponsor:
Amaranth Foundation
Co-Sponsor:
Wills Hall Oblate Community
Actor Sponsors:
Lee & Dolly Butz
Explore
Bethlehem Press:
"PSF Tempest a majestic vision."
"Bold and brilliant."
" PSF's The Tempest is spectacular."
"Meeks creates an energetic and handsome Ferdinand."
"Hayes is a bundle of energy, with balletic grace and acrobatic athleticism, seemingly dancing on air and floating across the stage."
"The stuff that truly great Shakespeare productions are made of."
Philadelphia Inquirer:
"Greg Wood delivers a compelling, sympathetic performance as Prospero."
"Captivating."
"Mesmerizing."
"The unforgettable, wondrous universe in which the Bard's universal theme of forgiveness finds its resonance."
The Morning Call:
"Fanciful, magical."
"Not only intrigues and seduces, but it also shows a love and reverence toward this work."
"This production amazes, delights, and astonishes until its very satisfying end."
"Theatrical wizardry."
"Fiery and full of sparkle, Formost is touching as a young woman experiencing first love."
"Brad DePlanche brings all his skills to the role of the fatuous court jester, Trinculo. His 'dance' with Caliban, and later his drunken sprees with Eric Hissom's Stephano, bring down the house."
Artists
CAST
Alonso, King of Naples:
Alan Coates*
Antonio, usurping Duke of Milan:
Carl N. Wallnau*
Gonzalo, and honest old Counselor:
Wayne S. Turney*
Sebastian, Alonso's brother:
Steven Dennis*
Miranda, daughter to Prospero:
Kelsey Formost*
Prospero, the right Duke of Milan:
Greg Wood*
Ariel, an airy spirit:
Dameka L. Hayes*
Caliban, a savage and deformed slave:
Richard B. Watson*
Ferdinand, son to the King of Naples:
Brandon Meeks
Francisco, a lord:
Erick J. Huertas
Trinculo, a jester:
Brad DePlanche*
Stephano, a drunken butler:
Eric Hissom*
Iris/Spirit
Julia Pfender
Ceres/Spirit
Leah Poyo
Juno/Spirit
Paige Kresge
Ensemble/Spirit
Pete Danelski
Ensemble/Spirit
Henry Gibson
Ensemble/Spirit
Brendan Moser
ARTISTIC TEAM
Director:
Jim Helsinger
Set Designer:
Bob Phillips
Lighting Designer:
Thom Weaver
Costume Designer:
Sam Fleming
Sound:
Matthew Given
Wig and Make-Up Designer:
Martha Ruskai
Stage Manager:
Stacy Renee Norwood*
Producing Artistic Director:
Patrick Mulcahy
*Member of Actors' Equity Association, the Union of Professional Stage Actors and Stage Managers in the United States.