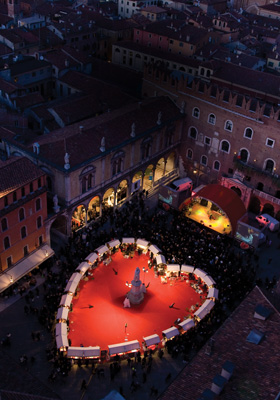 Romantic Shakespearean Comedy
By William Shakespeare
Directed by Matt Pfeiffer
JUNE 18 – JULY 13 | SCHUBERT THEATER
Proteus and Valentine are the best of friends until Proteus falls for the new object of Valentine's affections – Silvia. Forsaking his first love, Julia, Proteus sets out to betray his unsuspecting friend, only to find that both Silvia and Julia have a thing or two to teach him about loyalty and love. With a Duke, a debutante, and a dog (!) joining the lovers, Shakespeare's gentlest romantic comedy delights. Recommended for ages 8+
Extras
Prologues: Join us for insights into the play in an informal setting. Free. Held in the theatre 45 minutes prior to every curtain.
Opening night, Friday, June 20. Join the PSF actors and staff for a friendly post-show champagne toast.
Meet the actors for an informal talk-back after the show Thursday, June 26, July 3 and July 10.
Savoring Shakespeare: specialty dinner themed to the play with behind-the-scenes insights Thursday, July 10 and Saturday, July 12, 5:30pm.
Sponsor:
Sponsored in honor of Fr. Gerard J Schubert, OSFS, by a grateful DeSales University Community
Explore
Reviews
The Philadelphia Inquirer
"Shakespeare at his summery finest."
"This charming production—with many musical interludes and an adorable shaggy, white lapdog (Duncan, as Crab) —makes one of the bard's earliest comedies feel at once fresh and casual."
The Morning Call
"Quick-moving and engrossing."
"As Valentine, Luigi Sottile is as sweet and besotted as his name implies."
"As Silvia, Marnie Schulenburg is feisty and self-assured."
"Nicole Erb gives the naive young girl a strength of character and a forgiving soul that shows her growth."
"Peter Danelski and Scott Greer are hilarious as the comic servants Speed and Launce."
"Alex Bechtel is unforgettable as Thurio."
"Laugh-out-loud funny."
Lehigh Valley Press
"Fizzy summer fun."
"Sheer poetic delight."
"Impressive fun."
"Zack Robidas, as Proteus, one of two male leads, cuts a dashing and sincere figure with a solid performance that propels the plotline of vacillating love."
Features & Press Releases
Two Clowns and a Dog Named Crab
 Servants often serve as clowns in Shakespeare's works, and the two servants for the gentlemen of Verona "are young, full of humor, and fond of mischief," according to Frederick Ward in The Fools of Shakespeare. "Both are shrewd and keenly observant, particularly of the foibles and weaknesses of their masters." While their masters claim to be the […]
True Love, True Friendship, and Being True to Oneself
By Heather Helinsky, Dramaturg Two gentleman, two servants, two cities, and two lovely ladies provide unparalleled comic possibilities in this play written by the twenty-something William Shakespeare. Yet, audiences should not expect apprentice work. The rawness and openness of this play excites veteran Pennsylvania Shakespeare Festival director Matt Pfeiffer. "The play contains some of Shakespeare's […]
Artists
CAST
Valentine, a gentleman:
Luigi Sottile*
Proteus, a gentleman:
Zack Robidas
Speed, a clownish servant to Valentine:
Peter Danelski
Julia, beloved of Proteus:
Nicole Erb*
Lucetta, Julia's waiting-woman:
Ashleen Rowan
Antonia, father to Proteus:
Brian McCann
Launce, a clownish servant to Proteus:
Scott Greer*
Thurio, foolish rival to Valentine:
Alex Bechtel*
Duke, father to Silvia:
Peter DeLaurier*
Silvia, beloved of Valentine:
Marnie Schulenburg*
First Outlaw, with Valentine:
Brett Lawlor
Second Outlaw, with Valentine:
Phoenix Best
Eglamour, agent for Silvia in her escape:
Brian McCann
Host:
Brian McCann
Crab, the dog:
Duncan
Outlaw/Servant/Musician:
Phoenix Best
Outlaw/Servant/Musician
Brett Lawlor
Outlaw/Servant/Musician:
Ashleen Rowan
ARTISTIC TEAM
Playwright:
William Shakespeare
Director:
Matt Pfeiffer
Scenic Designer:
Samina Vieth
Lighting Designer:
Steve TenEyck
Costume Designer:
Marla Jurglanis
Sound Designer:
Matthew Given
Music Director:
Alex Bechtel*
Production Stage Manager:
Luisa Ann Torres*
Producing Artistic Director:
Patrick Mulcahy
*Member of Actors' Equity Association, the Union of Professional Stage Actors and Stage Managers in the United States.