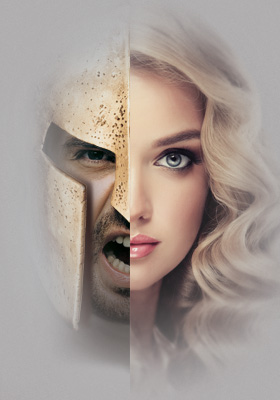 By William Shakespeare
JULY 26 – AUGUST 6 | SCHUBERT THEATRE
Heroes, kings, lovers, and clowns expose the follies of war with sardonic insight and cynical wit. A mythic who's who of classic heroic characters—Hector, Ulysses, and Achilles along with the lovers Troilus and Cressida—come face to face with stark realities after a years-too-long military conflict. A satirical, farcical, and sometimes tragic comedy only Shakespeare could deliver, and a rare opportunity to see it.
"Extreme Shakespeare." This production will be rehearsed the way Shakespeare's company would have: actors arrive with their lines learned, rehearse on their own, wear what they can find, and open in a matter of days. No director, no designers. Just great actors, a compelling play, pure adrenaline, spontaneity, and creativity. Ages 13+
Extras
Prologues: join us for insights into the play in an informal setting. Free. Held in the theatre 45 minutes prior to curtain.
Opening Night: Friday, July 28th. Join the PSF actors and staff for a friendly post-show champagne toast.
Meet the actors for an informal talk-back after the show Thursday, August 3.
Savoring Shakespeare: specialty dining themed to the play with behind-the-scenes insights Sunday, July 30, 11:00am (in combination with As You Like It) and Friday, August 4, 5:00pm.
Contemporary Context: Join us in the theater immediately following the 2pm performance on Sunday, July 30 for an engaging roundtable-style discussion on how we view love and war in Shakespeare's tragedies. A panel of guest speakers and PSF artists will examine the societal undercurrents of the Bard's Trojan War tale and its titular tragic lovers through the perspective of different generations connecting Shakespeare's time to today. Free to all ticket holders.
Explore
Broad Street Review:
"The fine cast's assured performances make the warring sides' negotiations clear and vital. The uncredited fight choreography is smartly staged"
"PSF's actors wisely present their characters as complex men and women navigating an impossible situation"
DC Metro Arts:
"Brilliant performances of the seasoned Shakespearean masters, who bring to the stage profound feeling, insightful wit, and a thorough facility with the Elizabethan language and rhythm"
"Brandon J. Pierce and Mairin Lee beautifully capture the youthful passion, uncertainty, and pain of Troilus and Cressida"
"Susan Riley Stevens provides both the physical comedy and the hilariously brutal socio-political commentary on the war, its heroes, and pawns, as the vile and insulting, but incisively observant slave Thersites, who acts the fool but speaks the truth"
"Very human portrayals by the outstanding experts in the cast"
The Reading Eagle
"Luigi Sottile is as heroic as he is handsome in the role of the Trojan champion Hector. His death scene is at once terrifying and conceptually audacious."
"This fine company has made something more compelling and fascinating out of "Troilus and Cressida" than even Shakespeare might have imagined"
"This rarely performed work is worth the hour drive to experience it"
Features & Press Releases
Artists
CAST
SUSAN RILEY STEVENS*
Prologue, Calchas, Thersites
BRANDON J. PIERCE*
Troilus
CARL N WALLNAU*
Pandarus
ANTHONY LAWTON*
Aeneas
MAIRIN LEE*
Cressida
DANE LAVERY
Alexander, Ensemble
LUIGI SOTTILE*
Hector
JACOB DRESCH*
Paris
ERIC HISSOM*
Nestor, Priam
KERI ANN MOYNIHAN
Cassandra
JULIANNE SCHAUB
Deiphobus, Ensemble
JAMES "BO" SAYRE
Menelaus, Antenor
EMILIE GUBLER
Andromache
LINDSAY SMILING*
Agamemnon
ERIC HISSOM*
Nestor, Priam
GREG WOOD*
Ulysses
DAN TRACY
Diomedes
ANDREW GOEBEL
Ajax
JUSTIN ADAMS*
Achilles
PETER DANELSKI
Patroclus
ALLY BORGSTROM
Helen
ARTISTIC TEAM
PATRICK MULCAHY
Producing Artistic Director
DENNIS RAZZE
Director/Associate Artistic Director
CASEY GALLAGHER
Managing Director
MAGGIE DAVIS*
Production Stage Manager
*Member of Actors' Equity Association, the Union of Professional Stage Actors and Stage Managers in the United States.