A Stunning Book of PSF Photography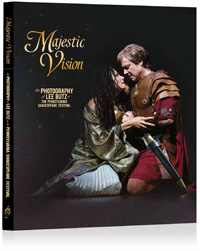 In celebration of the Festival's 20th anniversary, Majestic Vision: The Photography of Lee Butz at the Pennsylvania Shakespeare Festival was published in a limited, collector's edition.
Available here and in the lobby during the summer, Majestic Vision contains hundreds of photographs from PSF productions throughout its first 20 years.Three years in the making, the book represents a collaborative process between PSF Producing Artistic Director Patrick Mulcahy, Associate Artistic Director Dennis Razze, and PSF Official Photographer, Lee Butz. The trio reviewed more than 40,000 photographs that Lee has taken since the Festival's inception in 1992.
"The photographs [are] so magnetic and daring, they make you want to see the show you've just seen," wrote art and theatre critic Geoff Gehman in an issue of the PSF newsletter, The Quill.
Shot during the final dress rehearsal, the photographs are unrehearsed – though Lee might get a few notes from a director, e.g. "Someone will jump out of that window at the top of the next scene."
"After 20 years and shooting hundreds of productions, Lee has an uncanny sense of the moment," says Mulcahy. "This book of photographs captures the ephemeral: the defining moment of a character, of a performance, of a play."
A builder by profession and a photographer by avocation, Lee Butz chronicles the work of the Pennsylvania Shakespeare Festival. His camera captures the work of artists, changing the ephemeral to the enduring.
PSF patrons may purchase the book at the special price of $48, a 20% savings. Orders may also be placed by calling 610.282.9455, ext. 2, and the books are available in the lobby during the summer.