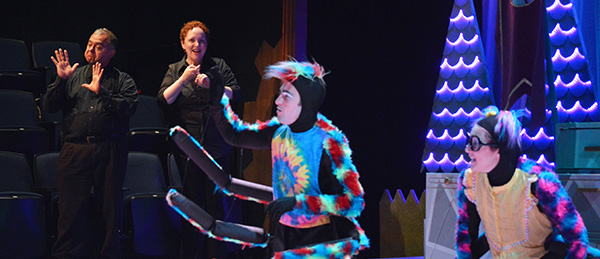 The Box Office will gladly accommodate your request for a wheelchair or companion seat, space for a service animal, large print program, or a headset for the assisted listening system. PSF accessibility offerings also include the following:
Audio Described Performances:
Every Brilliant Thing, Sat., June 18, 2pm; A Chorus Line, Wed., July 6, 7:30pm; Fences, Sat., July 30, 7:30pm; Much Ado About Nothing, Sat., Aug. 6, 2pm; and Little Red, Sat., July 23, 10am.
Audio Description is a form of audio-visual translation, using natural pauses to insert narrative that translates the visual image into an audible form. Patrons use headsets to hear the audio description.
A free tactile tour of key props and costumes will be offered 1 hour prior to the show in the theater. Reservations required. Braille and large print programs will also be available – please advise the box office of your preference when booking.
Open Captioned Performances:
A Chorus Line, Wed., July 6, 7:30pm; and Fences, Sat., July 30, 7:30pm.
Open Captioning is a live text display of the words and sounds happening during a production to aid those who are hard of hearing or deaf.
Sign-Interpreted Performances
Much Ado About Nothing, Sat., Aug. 6, 2pm; and Little Red, Sat., July 23, 10am.
Pennsylvania Shakespeare Festival offers ASL interpretation for the Deaf and hard-of-hearing at designated performances.
Relaxed Performances:
Little Red, Fri., June 24, 10am; and Shakespeare for Kids, Wed., Aug. 3, 2pm.
Engage with live theatre in an inclusive hush-free setting at a Relaxed Performance – a sensory-friendly show which creates a judgement-free and inclusive environment for patrons with a wide range of sensory and communication differences, including individuals on the autism spectrum, young children, and people of all abilities and ages who would benefit form a relaxed experience. For tickets and information, please call Box Office Manager Kyle Schumaker at 610-282-3654, ext. 1 or email psf@pashakespeare.org.
Previous PSF relaxed performances were made possible through an Audience (R)Evolution grant from Theatre Communications Group (TCG), the national organization for the American theatre, supported by the Doris Duke Charitable Foundation. PSF is honored to have received this support and to have worked collectively with a cohort of six theatres in the Greater Philadelphia area to address accessibility and inclusivity needs in the tristate region.
Click here to read more about Relaxed Performances at PSF
Resources from previous Relaxed Performances
The Adventures of Robin Hood and Maid Marian Theatre Guide
The Adventures of Robin Hood and Maid Marian Show Guide
The Adventures of Robin Hood and Maid Marian Character Schedule
S4K Macbeth Theatre Guide
S4K Macbeth Show Guide
S4K Macbeth Character Schedule
Assisted Listening
Both of our theaters are equipped with an infrared assisted listening system. Headsets are available at Will Call during every performance.
Large Print Programs
Large print programs are available at the Will Call table for all productions.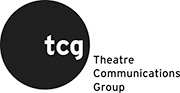 Theatre Communications Group and The Lehigh Valley Arts Council have been instrumental in the establishment of all of Pennsylvania Shakespeare Festival's accessible performances and has provided support over the years to welcome the widest possible audience to the Festival.