Pennsylvania Shakespeare Festival Announces Re-Opening Season for Summer 2021
FOR IMMEDIATE RELEASE
Contact: Tina Slak     tina.slak@pashakespeare.org
April 5, 2021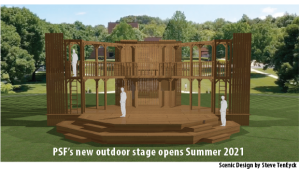 Pennsylvania Shakespeare Festival announced today the 2021 summer season. The upcoming season reflects the Festival's continued commitment to creating world-class professional theatre in the Lehigh Valley, and celebrates both the re-opening and the Festival's 30th anniversary. PSF has assembled an exciting and diverse summer line up featuring a beloved comedy by William Shakespeare on a new outdoor stage, Pulitzer Prize- and Tony Award-winning playwrights, a one-night-only concert with a Broadway artist, virtual performances, and a company of acclaimed actors and directors.
"In this time of extraordinary change, we have worked to re-open with a season that will be refreshing, a season that aligns with what is possible and what is needed," says Producing Artistic Director Patrick Mulcahy. "So many of us need to reconnect, have some fun, and experience the arts again.  And in support of our communities, of PSF's commitments, and our mission of reaching the widest possible audience, our season also aims to achieve greater diversity and inclusion."
The season will open June 25 and run through August 1 at the Labuda Center for the Performing Arts at DeSales University in Center Valley, PA. The Festival will prioritize the safety and comfort of its patrons, artists, and community and adapt to current and anticipated circumstances with socially distanced seating, limited capacity performances, upgraded HVAC filtration systems, and other safety measures.
As part of PSF's "something for everyone" approach to presenting theater this season, the Festival will produce in three different modes. Indoors, patrons can enjoy solo and small-cast works in PSF's 473-seat Main Stage theatre which will play to a limited and socially distanced audience. Larger cast productions will play outdoors on a splendid new stage on the university's beautiful mall adjacent to the theatre. For audiences at home, virtual programming, including some of the works we will produce onsite, will be available for those who prefer or need to see productions from the comfort of their homes.
As previously announced, the season opens indoors on the Main Stage with August Wilson's one-man theatrical memoir How I Learned What I Learned, starring veteran stage, film, and television actor Tony Todd. The production will be directed by Christopher V. Edwards, who recently joined PSF's staff as Distinguished Artist & Consultant, and who is providing insight and guidance for planning, programming, organizational development, diversity and inclusion. Written and originally performed by Pulitzer Prize-winning playwright August Wilson, How I Learned What I Learned explores autobiographical insights into the career of one of America's greatest writers. This theatrical memoir charts Wilson's life and artistic journey, from growing up in Pittsburgh's Hill District to the completion of Fences and other plays in his renowned American Century Cycle. In a moving solo performance, Wilson's poetic power takes center stage, illuminating a vivid portrait of his self-discovery and growth in becoming a Black artist in America.
Among the most exciting news items of producing live theatre again this summer is the introduction of PSF's new outdoor stage that will debut with William Shakespeare's beloved A Midsummer Night's Dream, which was originally slated for PSF's 2020 summer season. In the Bard's treasured comedy, the trickster Puck trips up the lovers as the king and queen of the fairies mingle with a clownish Athenian craftsman and his band of hapless players, yielding a magical night of moonlit merriment and revelry. Barrymore Award-winning director Matt Pfeiffer returns following his critically acclaimed PSF productions of Twelfth Night, As You Like It, and The Taming of the Shrew.
Hailed as "the region's most reliable director of William Shakespeare," Pfeiffer says, "This is some of Shakespeare's best language and his most iconic characters. It's a story about the irrationality of love. Love is inexplicable. It is the offspring of imagination, not reason. This play is a celebration of that. That irrational spirit inside all of us, that allows us to give over to love. The world is a pretty challenging place these days. It's never felt more important to share love and light with each other."
Next up is a one-night-only event on the outdoor stage starring Broadway actress Phoenix Best who returns to PSF with her solo concert, a lively evening of songs and stories about the shows, people, and musical influences that carried her to her first starring role on Broadway. Phoenix performed as an understudy in the role of Eponine in PSF's 2015 production of Les Misérables and was a PSF Young Company member from 2013 to 2015. She joined the original Broadway cast of the Tony, Emmy, and Grammy winning revival of The Color Purple shortly after graduating from the musical theatre program at DeSales University in 2015. Now a seasoned professional, she is best known for her role as Alana Beck on Broadway in Dear Evan Hansen, Eponine in the most recent North American Tour of Les Misérables, and roles at leading regional theatres and in film.
The Festival will conclude its indoor offerings with An Iliad. Also previously slated for PSF's 2020 season, the play now makes its Lehigh Valley premiere and will star PSF and Philadelphia veteran actor Greg Wood. In a modern-day retelling of Homer's classic, a lone storyteller and a live musician deliver a visceral and brilliantly refreshing recollection of heroes, Greek gods, and humanity's attraction to destruction and chaos. Obie Award–winning director Lisa Peterson and Tony Award–winning actor Denis O'Hare skillfully adapted Robert Fagles' lauded translation of Homer's The Iliad into a captivating solo performance piece.
This summer families can enjoy E. B. White's classic tale Charlotte's Web, performing on the outdoor stage June 25 through July 31. Attending the children's show performance will again offer a unique and long-awaited opportunity for families to enjoy an enriching, live theatre experience at the Festival.
For those who choose to attend PSF virtually, several of the season's indoor and outdoor offerings will be video recorded in front of a live audience and then made available to purchase access for viewing online. Additionally, the Festival will introduce virtual play readings with a reading of playwright Karen Zacarias' popular play Native Gardens.
Tickets for all summer productions will go on sale May 24 and will be available to purchase online at www.pashakespeare.org or by calling the box office at 610.282.WILL [9455] at that time. Look for more info in the coming weeks about Festival outdoor dining options and other events.
The Festival's 2021 Season Sponsor is Douglas Dykhouse. The Associate Season Sponsors are Linda Lapos & Paul Wirth, Kathleen Kund Nolan & Timothy E. Nolan, the Szarko Family, and Harry C. Trexler Trust.
Summer 2021 Season:
Outdoor Stage:
Charlotte's Web (10:00am): Opens June 25 through July 31
A Midsummer Night's Dream (6:30pm): Previews, July 7 & July 8; Opens, July 9 through Aug 1
In Concert with Phoenix Best (6:30pm): One-Night-Only, July 12
Main Stage:
How I Learned What I Learned (6:30pm): Previews, June 29 & June 30; Opens, July 1 through July 11   An Iliad (6:30pm): Previews, July 20 and July 21; Opens, July 22 through Aug 1
Virtual to Stream (dates/times TBD): Charlotte's Web, A Midsummer Night's Dream, Native Gardens and An Iliad
Pennsylvania Shakespeare Festival features acclaimed actors from Broadway, television, and film, and is traditionally the summer home to more than 200 artists from around the country, including winners and nominees of the Tony, Obie, Emmy, Drama Desk, Outer Critics Circle, Jefferson, and Barrymore awards. 
About Pennsylvania Shakespeare Festival
Pennsylvania Shakespeare Festival, under the leadership of Producing Artistic Director Patrick Mulcahy, is the only professional Equity theatre of its scope and scale within a 50-mile radius. PSF is one of only a handful of theatres on the continent producing Shakespeare, musicals, classics, and contemporary plays, all of which can normally be seen in rep and in multiple spaces within a few visits in a single summer season. Similarly, PSF was among just a handful of theatres on the continent in recent summers to produce three Shakespeare plays in a single summer season.  A patron would have to travel seven to nine hours from PSF to find a comparable range of offerings at a single theatre within a few weeks' time.
The Festival's award-winning company of many world-class artists includes Broadway, film, and television veterans, and winners and nominees of the Tony, Emmy, Obie, Outer Critics Circle, Drama Desk, Jefferson, Hayes, Lortel, and Barrymore awards. A leading Shakespeare theatre with a national reputation for excellence, PSF has received coverage in The Washington Post, NPR, American Theatre Magazine, Playbill.com, The Philadelphia Inquirer, and in recent seasons The New York Times has identified PSF as one of the leading summer theatre festivals in the nation. "A world-class theater experience on a par with the top Bard fests," is how one New York Drama Desk reviewer characterized PSF.
Founded in 1992 and the Official Shakespeare Festival of the Commonwealth of Pennsylvania, PSF's mission is to enrich, inspire, engage, and entertain the widest possible audience through first-rate productions of classical and contemporary plays, with a core commitment to Shakespeare and other master dramatists, and through an array of education and mentorship programs. A not-for-profit theatre, PSF receives significant support from its host, DeSales University, from the Pennsylvania Council on the Arts, and the National Endowment for the Arts. With 150 performances of seven productions, the Festival attracts patrons each summer from 30+ states. In 29 years, PSF has offered 175 total productions (74 Shakespeare), and entertained 1,000,000+ patrons from 50 states, now averaging 34,000-40,000 in attendance each summer season, plus another 13,000 students each year through its WillPower Tour to schools. PSF is a multi-year recipient of awards from the National Endowment for the Arts: Shakespeare in American Communities, and is a constituent of Theatre Communications Group, and the Shakespeare Theatre Association. In 2013, leaders of the world's premier Shakespeare theatres gathered at PSF as the Festival hosted the international STA Conference.
The Festival's vision is for world-class theatre.
 ###