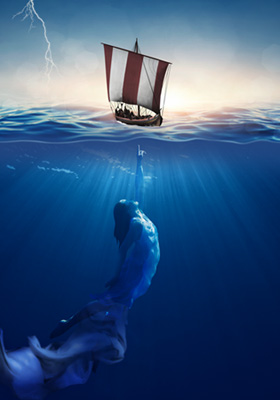 An exotic tale of adventure and romance
By William Shakespeare
JULY 22 – AUGUST 2 | SHUBERT THEATRE
Exotic adventures, dark mysteries, and enchanting love carry the handsome warrior Pericles, Prince of Tyre across the seas, into brothels and castles. After losing his wife and daughter, he unexpectedly discovers joy in a scene considered "one of the extraordinary sublimities of Shakespeare's art." PG10
Please note: This production will be rehearsed the way Shakespeare's company would have: Actors arrive with their lines learned, rehearse on their own, wear what they can find, and open in a matter of days. No director, no designers. Just great actors, a great play, pure adrenaline, spontaneity and creativity.
Pennsylvania Shakespeare Festival's productions of Henry V and Pericles are part of Shakespeare in American Communities, a program of the National Endowment for the Arts in partnership with Arts Midwest.
Extras
Prologues: join us for insights into the play in an informal setting. Free. Held in the theatre 45 minutes prior to curtain.
Opening night, Friday, July 24th. Join the PSF actors and staff for a friendly post-show champagne toast.
Meet the actors for an informal talk-back after the show Thursday, June 19 and 26.
Savoring Shakespeare: specialty dinner themed to the play with behind-the-scenes insights Thursday, July 23; Saturday, July 25 and August 1; Sunday, August 2; 5:30pm
Explore
Reviews
"Superb…are Christopher Patrick Mullen as Pericles, Gina Lamparella as Thaisa, Susan Riley Stevens as Dionyza, Richard B. Watson as several kings, Spencer Plachy as Lysimachus, Emiley Kiser as Marina, Suzanne O'Donnell as the Bawd and Eric Hissom as Boult."
"'Pericles' … genuinely entertains. It boasts the spontaneity of an improvisation and provides insight into the art of making theater."
"The epic story of 'Pericles,' in Shakespeare's telling, has it all …And it's even more fun the way The Pennsylvania Shakespeare Festival is doing it.
"a highly entertaining production…a fast-moving version with speedy transitions"
"A bright evening, a spirited rendering."
Features & Press Releases
Artists
CAST
Antiochus:
Richard B. Watson*
Pericles:
Christopher Patrick Mullen*
Daughter:
Ally Borgstrom
Thaliard:
Ian Moody
Helicanus:
Eric Hissom*
Cleon:
Richard B. Watson*
Dionyza:
Susan Riley Stevens*
First Fisherman:
Eric Hissom*
Second Fisherman:
Brad DePlanche*
Third Fisherman:
Peter Danelski
Escanes:
Spencer Plachy*
Simonedes:
Richard B. Watson*
Thaisa:
Gina Lamparella*
Lychordia :
Ilia Paulino
Cerimon:
Brad DePlanche*
Philemon:
Ally Borgstrom
Leonine:
Peter Danelski
Marina:
Emiley Kiser
Pandar:
Brad DePlanche*
Bawd:
Suzanne O'Donnell*
Boult:
Eric Hissom*
Lysimachus:
Spencer Plachy*
Diana :
Tori Lewis
ARTISTIC TEAM
Production Stage Manager:
Stacy Renee Norwood*
Producing Artistic Director:
Patrick Mulcahy
PRODUCER'S NOTE:
We believe that Shakespeare's actors were expected to perform plays on short notice and might present a dozen different plays in the span of a few weeks, leaving little time for the extended rehearsal processes that theatres employ today. With Pericles, PSF is employing something akin to the presumed Elizabethan rehearsal method, bringing patrons one step closer to the excitement and spontaneity an audience member might have experienced in an Elizabethan playhouse.
PSF typically rehearses each production six days a week for three and a half weeks. In contrast, we believe Elizabethan actors memorized their lines and prepared their characters outside of rehearsals and rehearsed fights, dances, and songs just days before the first performance.
For this production, the actors arrived with their lines learned, rehearsed for a few days, staged the play themselves, wore what they could find, and opened in less than a week. There is no director—the position didn't exist in 1608—and no designers in the conventional sense. The script cutting and cast doubling schemes were developed by Jim Christy and Patrick Mulcahy. Scenic elements created by Bob Phillips and Samina Vieth for Around the World in 80 Days have been commandeered for this performance, as have elements of Eric Haugen's lighting.
*Member of Actors' Equity Association, the Union of Professional Stage Actors and Stage Managers in the United States.