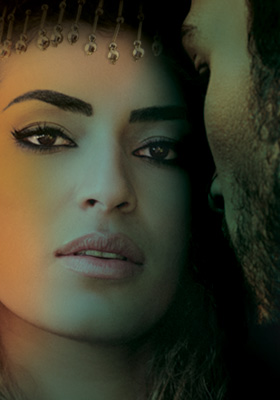 "I have immortal longings in me."
By William Shakespeare
Directed by Eleanor Holdridge
JULY 10 – AUGUST 4 | MAIN STAGE
One fateful meeting reshapes the ancient world when Roman triumvir Marc Antony falls like Caesar before him for Cleopatra, the enchanting Queen of the Nile. As civil unrest plagues Rome, this exotic and intriguing tale illuminates the collision of power and passion as empires hang in the balance. Shakespeare's dark and intimate portrait of this storied affair features some of the most transcendent poetry on love and loss in the canon. In a world of great nations and greater longing, the quest for transcendence yields both tragedy and triumph in one of history's greatest love stories. Ages 13+
Extras
Opening Night, Friday, July 12: Join the PSF actors and staff for a friendly post-show champagne toast.
Savoring Shakespeare – specialty dinner themed to the play with behind-the-scenes insights: Friday, July 26, 5:00pm
Meet the actors for an informal talk-back after the show: Thursday, August 1.
Prologues: join us for insights into the play in an informal setting. Free. Held in the theatre 45 minutes prior to curtain.
Antony & Cleopatra and Private Lives will play in repertory with the same cast. Please order early for the best seating options.
Explore
PlayShakespeare.com
"Pennsylvania Shakespeare Festival approaches the play's disparate moods and expansive plots with ambition and enthusiasm, and with Holdridge's confident direction and the talents of the cast and crew, brings it all together into a sweeping, epic, prestige drama."
"Bledsoe plays Antony with a sense of careless authority and confidence."
"Tembe portrays Cleopatra's emotional extremes as layers of deliberate performance…Tembe shows her effortlessly calibrating her dramatic presentation to her perceived audience."
"Antony and Cleopatra frames the title characters' sweeping passion as inextricably linked with the shifting political and military turmoil of post-Republic Rome, and the Pennsylvania Shakespeare Festival brings all its varied features to life."
"The cast overall is quite strong, handling the tonal shifts from romance to comedy to drama and back with aplomb."
"Ilia Isorelýs Paulino is a charming and confident Charmian, with excellent chemistry with Tembe."
"Liam Craig as Enobarbus emphasizes the contrasting side of loyalty with a growing weariness and disillusionment."
"Director Eleanor Holdridge does an excellent job wrangling the sprawling text into a steadily- paced saga."
"Holdridge wisely composites numerous bit parts into consistent supporting characters who provide the production with additional emotional depth."
"Holdridge tackles the text's avalanche of action and exposition with a calm proficiency."
"Tying together the production is the music, Middle Eastern-inspired, with a driving beat urging the action ever onwards."
"The costume design by Sarah Cubbage establishes a modern setting that nevertheless has a deliberately timeless air, with the Romans' formal dress uniforms and Egypt's high fashion recalling several centuries' worth of style."
"The wardrobe of Cleopatra and her attendants perfectly conveys Egypt's high-powered glamor."
"Scenic designer Roman Tatarowicz provides a fitting opulence and grandeur with the Art Deco-inspired set of gold-spattered black marble…(creates) a constantly metamorphosing visual display that complements the ever-changing characters and plot."
The Morning Call
"Intriguing…."
"Powerful, nuanced performances."
"Outstanding production…."
"Director Eleanor Holdridge has created a fascinating world that feels both ancient and present-day in its scope."
"Nondumiso Tembe is memorable as Cleopatra, the Queen of the Nile. She perfectly captures the queen's mercurial nature."
"Neal Bledsoe is every bit a match for Tembe's Cleopatra, exhibiting a forceful presence."
"Tembe makes Cleopatra's power, even in her final moments, undeniable."
"Bledsoe effectively captures how Antony is torn between his desire to be with Cleopatra and his desire to maintain power in Rome."
"Bledsoe's Antony is still noble as he confronts his own defeat."
"The clever casting of Eleanor Handley as Agrippa, Caesar's efficient lieutenant, juxtaposes against the sensuous world of Cleopatra."
"Luigi Sotille is notable as the opportunistic Pompey."
"Sarah Cubbage's wonderful costumes range from Cleopatra's fabulous outfits to a range of assorted militaristic uniforms."
The Lehigh Valley Press
"Big, sprawling and grand…"
"Lavish Egyptian stylized gowns by Costume Designer Sarah Cubbage."
"Director Eleanor Holdridge emphasizes the dynamics as a triangle of power politics between Marc Anthony (Neal Bledsoe), Cleopatra (Nondumiso Tembe) and Octavius Caesar (Justin Mark)."
"Bledsoe and Tembe each convey the conflicted loyalties of their respective characters."
"Bledsoe is a tall, stoic presence, and yet represents well the ambiguity of his character."
"Memorable are Matthew Floyd Miller (Eros), providing a modicum of comic relief; Liam Craig (Domitius Enobarbus), strong in audience direct-address speeches; Eleanor Handley (Agrippa), Luigi Sottile (Thidias) and Shpend Xani (Lepidus)."
Features & Press Releases
Antony & Cleopatra
By Heather Helinsky, Dramaturg Last summer, PSF audiences watched Shakespeare fall in love with Viola de Lesseps, the imaginary character from the 1999 film Shakespeare in Love, written by Tom Stoppard and Marc Norman. While historians know a bit about Shakespeare's domestic life and have pondered odd details of why Shakespeare willed his wife Anne Hathaway his […]
Artists
CAST
NEAL BLEDSOE*
Marc Antony
BRANDON EDWARD BURTON
Menas, Alexas
TAYLOR CONGDON
Mardian, Ensemble, u/s Octavia
LIAM CRAIG*
Enobarbus
TALLEY GALE*
Octavia, Ensemble
ELEANOR HANDLEY*
Agrippa
JUSTIN MARK*
Octavius Caesar
IYKECHI MCCOY
u/s Menas, u/s Alexas
JAYCE MEREDITH
Gallus, Ensemble
MATTHEW FLOYD MILLER*
Eros
GABE MOSES
u/s Octavius
ILIA ISORELÝS PAULINO*
Charmian
ALYSSA RAMSEY
Iras
BO SAYRE
Scarus, Varrius
MATTHEW SMALDONE
Maecenas, Soldier
LUIGI SOTTILE*
Pompey, Thidias
NONDUMISO TEMBE*
Cleopatra
SHPEND XANI
Lepidus, Canidius
JHALIL-MARQUIS YOUNGER
Soothsayer, Soldier
ARTISTIC TEAM
PATRICK MULCAHY
Producing Artistic Director
DENNIS RAZZE
Associate Artistic Director
CASEY WILLIAM GALLAGHER
Managing Director
J. ALEX CORDARO
Fight Director
SARAH CUBBAGE
Costume Designer
ERIC T. HAUGEN
Lighting Designer
ELEANOR HOLDRIDGE
Director
WILLIAM NEAL
Sound Designer
SHELBY NORTH*
Production Stage Manager
SEAN RAVITZ*
Assistant Stage Manager
LAURA STANCZYK, CSA
New York Casting
ROMAN TATAROWICZ
Set Designer
*Member of Actors' Equity Association, the Union of Professional Stage Actors and Stage Managers in the United States.