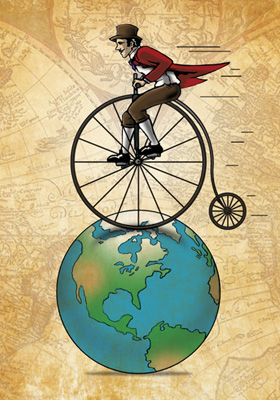 A laff-riot romp!
By Mark Brown
Directed by Russell Treyz
JUNE 17 – JULY 12 | SCHUBERT THEATRE
Back by popular demand. A rambunctious romp 'round the world with Phileas Fogg and a host of 39 fascinating characters played by five actors. A joyful celebration of both the actors' craft and the audience's imagination. First produced by PSF 10 years ago to rave reviews and record-breaking attendance. Will Fogg avoid capture and calamity and win the world record? Only time—80 days to be precise—will tell. Ages 8+
Extras
Opening night, Friday, June 19. Join the PSF actors and staff for a friendly post-show champagne toast.
Meet the actors for an informal talk-back after the show Thursday, June 25, July 2 and July 9.
Dinner with Dennis and Deb: specialty dinner themed to the play with behind-the-scenes insights Friday, June 19th, 5:30PM.
Explore
The Morning Call/Kathy Laurer Williams
"…a side-splitting farce that has to be seen to be believed…. Proves that with skillful actors and deft direction, you can fill a stage with dozens of characters, exotic locales and hilarious situations."
"The heart of the play is Brad DePlanche as Fogg's hilarious French servant Passepartout. DePlanche is a comedic genius who draws laughs out of pretty much everything he does."
Lehigh Valley Press/Paul Willistein
"There's funny, there's very funny and then there's hilarious. The Pennsylvania Shakespeare Festival (PSF) production of Around the World in 80 Days goes to funny and beyond: It's fantastically funny."
"Brown's script misses no opportunity for laughs, and neither do the actors, who are especially adept (coupled with sound and lighting effects) at creating the impression of travel by train, boat, automobile and elephant."
"(Christopher Patrick) Mullen is a whirlwind of energy, changing almost instantaneously from one character and costume to the other, with each, among the 16 roles he creates, distinct from the other."
Phindie.com/NealsPaper/Neal Zoren
"Richard B. Watson retains an admirable calm as Phileas Fogg. Whether under fire or under arrest, Fogg never seems stressed, unprepared, or flustered…. Watson is remarkable in holding Fogg's fastidious line, and even better in conveying his affection for a woman, conducting a romance, and arranging a marriage."
"Anita Vasan rounds out the cast charmingly as Aouda, the young woman Fogg and Passepartout risk all to save from her husband's funeral pyre. Vasan shows Aouda's piercing intelligence and signals her affection for Watson's Fogg in subtle and significant ways that go beyond gratitude or a sense of obligation."
Features & Press Releases
Around the World in 80 Days: BYOB
Editor's Note: Mark Brown, playwright and actor, recounts how Around the World in 80 Days became a play he wrote: the inspiration took place while he was performing at the Pennsylvania Shakespeare Festival in 1999. Around the World in 80 Days: BYOB By Mark Brown If you walk straight out the front entrance of the Labuda Center […]
Artists
CAST
Phileas Fogg:
Richard B. Watson*
Passepartout/John Sullivan:
Brad DePlanche*
Andrew Stuart/Detective Fix/ Priest/Conductor/Elephant Owner/ Young Parsi/Oysterpuff/ Reverend Wilson's Servant:
Eric Hissom*
Gauthier Ralph/ British Consul/ Director of Police/ Priest/ Sir Francis/ Judge Obadiah/ Chinese Broker/ Ship Clerk/ Bunsby/ Proctor/ Engineer/ Mudge/ Clerk/ Speedy/ Ship Engineer/ Train Clerk:
Christopher Patrick Mullen*
Aouda/James Forester/ Newspaperman/Priest:
Anita Vasan*
ARTISTIC TEAM
Playwright:
Mark Brown
Director:
Russell Treyz
Scenic Designer:
Bob Phillips
Costume Designer:
Amy Best
Lighting Designer:
Eric T. Haugen
Production Stage Manager:
Stacy Renee Norwood*
Based on the novel by:
Jules Verne
Producing Artistic Director:
Patrick Mulcahy
*Member of Actors' Equity Association, the Union of Professional Stage Actors and Stage Managers in the United States.