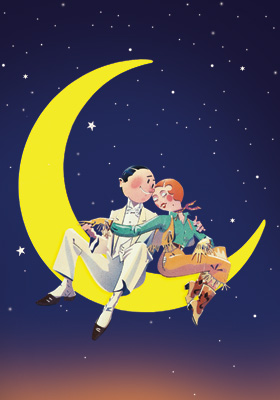 "An explosion of joy!"
– The New York Daily News
Music & Lyrics by George Gershwin & Ira Gershwin
Book by Ken Ludwig
Co Conception by Ken Ludwig & Mike Ockrent
Inspired by material by Guy Bolton & John McGowan
Originally produced on Broadway by Roger Horchow & Elizabeth Williams
Original Broadway Choreography by Susan Stroman
Directed by Gina Lamparella
JUNE 12 – JUNE 30 | MAIN STAGE
Treasured Gershwin songs meet sparkling, sensational dances in the ultimate feel-good musical comedy for the summer season. From acclaimed Lend Me a Tenor and The Three Musketeers funnyman playwright Ken Ludwig, this Tony Award-winning musical sends a banker with show business stars in his eyes from New York to Deadrock, Nevada on official business. Mistaken identities, love at first sight, and hijinks hilarity resuscitate an abandoned theatre and the spirit of a small town. With a wealth of memorable tunes including "I've Got Rhythm," "Someone to Watch Over Me," and "Nice Work if You Can Get It," Crazy for You bubbles over with spectacular show-stopping numbers and glistens with 1930s glamour. Ages 7+
Similar to the last several seasons, PSF expects the majority of performances to sell out. Order early for the best seating options.
Extras
Opening Night, Friday, June 14: Join the PSF actors and staff for a friendly post-show champagne toast.
Meet the actors for an informal talk-back after the show: Thursday, June 20 and 27.
Director's Dinners – specialty dinner themed to the play with behind-the-scenes insights: Sunday, June 16, 5:00pm, and Wednesday, June 26, 5:00pm.
Audio Described and Open Captioned performance: Wednesday June 26, 8:00pm.
Explore
Reviews
Our audience is CRAZY for Crazy for You…. Here's what they're saying
"An absolutely 5 star, WOW performance!"
"I've been attending PSF from the beginning and this is the best production ever!"
"I saw this show on Broadway and this production is better."
"Absolutely wonderful!"
"Best ever!"
"What a night!!! I loved every minute of the show. Such talent! If you get a chance to see this show, GO!"
The Morning Call:
Review by Kathy Lauer Williams
"Spectacular Crazy for You shines."
"Dazzling dancing and outstanding choreography."
"Danny Gardner is perfectly cast."
"Breathtaking…."
"Unforgettable…."
"Hayley Podschun is outstanding…a delight."
"Exhilarating and enchanting…."
"Gardner's tap dancing is exceptional."
"Vishal Vaidya is terrific as Bela Zangler and a highlight of the show, out of many highlights."
"Kate Loprest is perfect as Irene Roth."
Lehigh Valley Press:
Review by Paul Willistein
"PSF's Crazy for You will captivate and transport you to Broadway's Golden Age."
"One of the most high-energy shows ever to grace the stage."
"Exhilarating…."
"Danny Gardner combines the balletic lightness of Fred Astaire and the athletic strength of Gene Kelly."
"Effervescent…."
"Director Gina Lamparella elicits incredible performances from every cast member."
"Superbly acted…."
"Choreographer Stephen Casey infuses the show with an intense, yet graceful style and the dancers respond with precision."
"Crazy for You is crazy good."
"Sound Designer Matthew Given lets the music and vocals reverberate in the theater."
Features & Press Releases
Broadway actors deliver show-stopping numbers and treasured Gershwin songs in Pennsylvania Shakespeare Festival's Crazy for You
FOR IMMEDIATE RELEASE June 5, 2019 Contact: Tina.slak@pashakespeare.org Treasured Gershwin songs meet sparkling, sensational dances in Crazy for You, the ultimate feel-good musical comedy that will kick-off the summer season on PSF's Main Stage on June 12 at the Labuda Center for the Performing Arts on the Center Valley campus of DeSales University. From acclaimed Lend […]
Artists
CAST
EMILY BLAKE ANDERSON
Elaine, u/s Irene Roth
JOANN WILCHEK BASIST
Mrs. Lottie Child
JOSIAH BEHRENS IV
Jimmy, Chauffeur
MICHAEL BINGHAM
Perkins, Harry, u/s Bela Zangler
EMMA CLINCH
Tess
CHRISTOPHER COUCILL*
Everett Baker
NOLAN DAVIDSON
Swing
KAILEY EDWARDS
Patricia Fodor
HANNAH FAIRMAN
Patsy
ZURI FOREMAN
Susie
MEGAN FRY
Swing
CHRISTOPHER GALLACHER
Pete, u/s Lank Hawkins
JERRY GALLAGHER*
Moose
DANNY GARDNER*
Bobby Child
RASHAAN JAMES II*
Sam, Dance Captain
ANGELA LAROSE
Margie, u/s Polly
KATE LOPREST*
Irene Roth
JAYCE MEREDITH
Eugene Fodor
GABE MOSES
Custus
REBECCA PHILLIPS
Betsy
HAYLEY PODSCHUN*
Polly Baker
MATTHEW PATRICK QUINN*
Lank Hawkins
MARA RANSON
Mitzi, Dance Captain
JASON DANIEL RATH*
Billy
DOMINICK SANNELLI
Mingo
JOSHUA J. SCHWARTZ
Wyatt, u/s Bobby Child
VISHAL VAIDYA*
Bela Zangler
KATHY VANDEREEDT
Louise
RICHARD WESTFAHL
Junior
ARTISTIC TEAM
PATRICK MULCAHY
Producing Artistic Director
DENNIS RAZZE
Associate Artistic Director
CASEY WILLIAM GALLAGHER
Managing Director
ELLEN BELTRAMO*
Production Stage Manager
STEPHEN CASEY
Choreographer
J. ALEX CORDARO
Fight Director
SAM FLEMING
Costume Designer
ERIC T. HAUGEN
Lighting Designer
GEORGE GERSHWIN
(1898-1937) Composer
IRA GERSHWIN
(1896-1983) Lyricist
MATTHEW GIVEN
Sound Designer
GINA LAMPARELLA
Director
KEN LUDWIG
Playwright
CAROLYN REICH*
Assistant Stage Manager
LAURA STANCZYK, CSA
New York Casting
STEVE TENEYCK
Set Designer
RYAN TOUHEY
Music Director, Orchestra Conductor
*Member of Actors' Equity Association, the Union of Professional Stage Actors and Stage Managers in the United States.