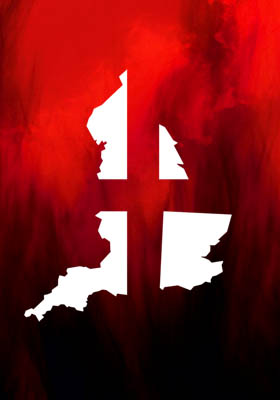 By William Shakespeare
JULY 25 – AUGUST 5 | SCHUBERT THEATER
Extreme Shakespeare: A play rehearsed the way Shakespeare's company would have. Actors arrive with their lines learned, rehearse on their own, wear what they can find, and open in a matter of days. No director, no designers. Just great actors, a dynamic play, and pure adrenaline, spontaneity and creativity.
Boundless ambition, corruption, and greed plague a usurping King and his country. As King John navigates a landscape of murder and intrigue, he is challenged from all sides. England struggles to unite under a single, legitimate ruler in a play full of unpredictable twists and turns. Recommended for ages 10+.
For more on this show, read this season's issue of the PSF Newsletter "The Quill."

Extras:
Prologues: join us for insights into the play in an informal setting. Free.
Held in the theatre 45 minutes prior to curtain.
Meet the actors for an informal talk-back following the performance on Thursday, August 2.Air Products
Keenan-Nagle Advertising, Inc.
Sponsors:
Dr. & Mrs. Frank J. Szarko
Co-Sponsors:
Air Products
Keenan-Nagle Advertising, Inc.
Explore
The Philadelphia Inquirer:
"Game of Thrones has nothing on (this) game of thrones."
"The play's multiple twists of fate and strategy move front and center."
"Susan Riley Stevens' Constance wields and calculated maternal fury."
"It helps to have a team…as skilled as the principals in this one."
Playshakespeare.com:
"Riveting."
"Remarkable."
"Extraordinary."
The Morning Call:
"The cast is made up of seasoned pros."
"Greg Wood…gives a strong performance as the beleaguered king…a genial, but regal, dominating spirit."
"Eleanor…played by Sally Mercer, is an authoritative and strong minded feminist, both maternal and queenly."
"Ian Bedford is both a physically powerful and imposing presence."
Artists
CAST
King John:
Greg Wood*
Chatillon
Pete Danelski
Queen Eleanor
Sally Mercer*
Earl of Pembroke:
Henry Gibson
Earl of Salisbury:
Leo Bond
Philip the Bastard:
Ian Bedford*
Lewis:
Brandon Meeks
King Philip:
Eric Hissom*
Arthur:
Brendan Moser
Limoges:
David Scheffler
Constance:
Susan Riley Stevens*
Blanche:
Leah Poyo
Hubert:
John Ahlin*
Cardinal Pandulph:
Richard B. Watson*
Executioner:
Erick J. Huertas
Executioner:
Paige Kresge
Messenger:
Pete Danelski
Peter of Pomfret:
Erick J. Huertas
Prince Henry:
Erick J. Huertas
ARTISTIC TEAM
Production Stage Manager
Stacy Renee Norwood*
*Member of Actors' Equity Association, the Union of Professional Stage Actors and Stage Managers in the United States.
Videos
More information Coming Soon.