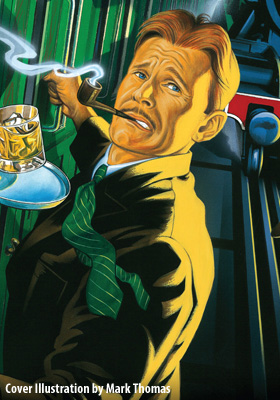 Pure comedic pleasure
Adapted by Patrick Barlow
From the novel by John Buchan
From the movie of Alfred Hitchcock
Directed by Matt Pfeiffer
JUNE 19 – JULY 14 | SCHUBERT THEATER
A maze of murder and espionage entangles our innocent, mild-mannered protagonist as he navigates a flirtatious blonde, an on-stage plane crash, and death-defying spectacles. Winner of two Tony and Drama Desk awards and The Olivier Award for Best New Comedy, this madcap spin on the Hitchcock masterpiece adds a splash of Monty Python, and 150 characters played by only 4 actors. The perfect love-letter to the magic of the theatre. Recommended for ages 6+.
Extras
Meet the actors for informal talk-backs following all Thursday performances, except previews.
Opening night, Friday, June 21. Join PSF staff and acting company for a friendly post-show champagne toast.
Dinner with Dennis & Deb. Delicious and themed to the play, with behind-the-scenes insights. Sunday, June 23.
Explore
The Morning Call
"Hysterical.… Four-star funny."
"An evening of laughter and magical illusion."
"I apologized to those sitting near me. I just couldn't stop laughing."
"Beyond wonderful…. Must be seen to be believed."
LV Press
"Hilarity ensues from the moment that four actors in multiple roles – so many I lost count – step on stage."
"Rip-roaring fun and sheer entertainment."
"Burns disappears into his characters so remarkably you don't realize he's the same actor."
"At once ridiculous and brilliant."
"Nonstop laughter…. Genius."
The Reading Eagle
"The wildly talented quartet of actors is at its most astonishing when they re-create the train sequence, complete with a chase outside and on top of the train."
"Theatrical genius.… A gem of a production."
"A hilarious spoof."
Lehigh Valley Stage
"Hilarious…. Not to be missed."
"Matt Pfeiffer's direction of this production found new and innovative ways to make me laugh."
"PSF finds many excellent leading actors…. May be the best cast I have seen in any regional theater production."
"Great acting…. This is the best comedic duo I have seen in a long time.
Artists
CAST
Richard Hannay:
William Connell*
Annabella Schmidt/Margaret/Pamela:
Genevieve Perrier*
Clown 1:
Steve Burns*
Clown 2:
Anthony Reimer*
ARTISTIC TEAM
Director:
Matt Pfeiffer
Scenic Designer:
Samina Vieth
Lighting Designer:
Thom Weaver
Costume Designer:
Lisa Zinni
Sound Designer:
Matthew Given
Voice and Text Coach:
Dudley Knight
Production Stage Manager:
Marguerite Price*
Producing Artistic Director:
Patrick Mulcahy
*Member of Actors' Equity Association, the Union of Professional Stage Actors and Stage Managers in the United States.