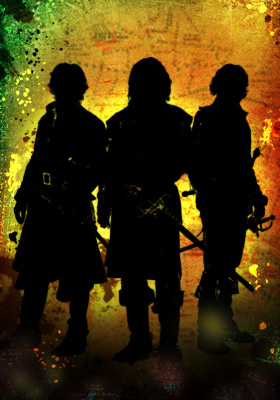 Adventurous Romantic Comedy
By Ken Ludwig
Adapted from the novel by Alexandre Dumas
Directed by Rick Sordelet
JULY 12 – AUGUST 6 | MAIN STAGE
"All for one and one for all." A swashbuckling romp of romance, danger, and comedy brilliantly adapted by Ken Ludwig, the award-winning playwright of Lend Me A Tenor, Crazy for You, and others. Alexandre Dumas' timeless tale springs to life as the young D'Artagnan discovers honor amid international intrigue and high-stakes adventures. Returning to the director's chair at PSF is world-renowned fight choreographer Rick Sordelet, whose credits include Broadway, Disney, The Metropolitan Opera and the Royal Opera House. Ages 7+
Extras
Opening Night, Friday, July 14th: Join the PSF actors and staff for a friendly post-show champagne toast.
Meet the actors for an informal talk-back after the show Thursday, August 3.
Audio described performance 2:00pm Saturday, July 29.
Director's Dinner: specialty dinner themed to the play with behind-the-scenes insights Saturday, August 5, 5:00pm.
The Three Musketeers and As You Like It will play in repertory with the same cast. Please order early for the best seating options.
Explore
The Philadelphia Inquirer
"A spectacle that fills you with child-like wonder"
"The show thoroughly wins you over"
"The three musketeers themselves — actors Alexander Sovronsky, Zack Robidas, and Ian Merrill Peakes — are a steady comic presence"
"Surprises you all night with its unending invention"
"Sean Patrick Higgins never stumbles as D'Artagnan. You truly believe he is an ardent, idealistic young man determined to find his way."
"Stellar cast"
The Morning Call
"A Rollicking, fun adventure"
"It feels like the fights, beautifully choreographed by Christian Kelly-Sordelet, the son of director Rick Sordelet, are a character in themselves"
"As D'Artagnan, Sean Patrick Higgins is a delight"
"Served up perfectly by the exceptional cast"
"The Musketeers have chemistry….Their word play is as natural as their sword play is skilled"
WHYY/NewsWorks
"The swords are like appendages to their bodies"
"A richly silly two hours of laughs"
"Not only are the fights fun to watch, but Sordelet's cast is great to be with"
"Sean Patrick Higgins is a charmer as the lead character, D'Artagnan"
"If you have fun watching the show — really, I don't know how you couldn't — think of the good time costume designer Samantha Fleming must have had outfitting the characters in rich costumes right out of the 1620s"
Features & Press Releases
Artists
CAST
SEAN PATRICK HIGGINS*
D'Artagnan
IAN MERRILL PEAKES*
Athos
ZACK ROBIDAS*
Porthos
ALEXANDER SOVRONSKY*
Aramis
PAUL KIERNAN*
Richelieu
JOHN KEABLER*
Rochefort, Stanley
MIKE ROSSMY*
Buckingham
DAN HODGE*
King Louis XIII
ESAU PRITCHETT*
Treville
STEPHANIE HODGE
Sabine
STELLA BAKER
Milady/Old Lady
KELSEY RAINWATER
Constance Bonacieux
MARNIE SCHULENBURG*
Queen Anne
MICHAEL COVEL
Ensemble
AUSTIN LUCAS
Ensemble
DANE MCMICHAEL
Ensemble
ILIA PAULINO
Ensemble
ANDREW SCOGGIN
Ensemble
VICTORIA SCOVENS
Ensemble
ARTISTIC TEAM
PATRICK MULCAHY
Producing Artistic Director
DENNIS RAZZE
Director/Associate Artistic Director
CASEY GALLAGHER
Managing Director
RICK SORDELET
Director
BRIAN SIDNEY BEMBRIDGE
Scenic Designer
SAM FLEMING
Costume Designer
MASHA TSIMRING
Lighting Designer
CHRISTIAN KELLY-SORDELET
Fight Director
ALEXANDER SOVRONSKY*
Composer/Music Director/Sound Designer
ALISON HASSMAN*
Production Stage Manager
CAROLYN REICH*
Assistant Stage Manager
LAUREN STANCZYK
New York Casting/CSA
KEN LUDWIG
Playwright
*Member of Actors' Equity Association, the Union of Professional Stage Actors and Stage Managers in the United States.