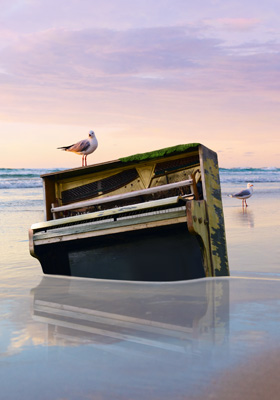 "Present Mirth Hath Present Laughter."
By William Shakespeare
Directed by Matt Pfeiffer
JUNE 21 – JULY 15 | SCHUBERT THEATRE
Wit, music, romance and revelry are the food of love at this comedic feast of lovers and fools. Viola and her twin brother are shipwrecked in the magical land of Illyria, each believing the other drowned. Disguised as a young man, and entering the service of the lovesick Duke Orsino, Viola woos the wistful lady Olivia for her new master and finds herself in a most unusual and hilarious love triangle. Merry deceptions and mistaken identities abound in this lilting comedy until true love finds its way. Ages 7+
Extras
Prologues: Join us for insights into the play in an informal setting. Free. Held in the theatre 45 minutes prior to curtain.
Opening Night, Saturday, June 23: Join the PSF actors and staff for a friendly post-show champagne toast.
Meet the actors for an informal talk-back after the show: Thursday, June 28, July 5, and July 12.
Savoring Shakespeare – specialty dinner themed to the play with behind-the-scenes insights: Sunday, June 24, 5:00pm.
Sponsor:

Sponsored in memory of Fr. Gerard J. Schubert, OSFS,
by a grateful DeSales University Community.
Co-Sponsors:
Susan Henry Martin & James T. Martin, Jr.
Explore
The Philadelphia Inquirer
"Mixes riotous laughter with a sense of the tragic."
"Young Victoria Janicki is affecting as Viola/Cesario."
"Hissom has perfect comic timing."
"Full of hilarity."
"Wood's portrayal is so endearingly funny."
Broad Street Review
"Matt Pfeiffer proves again why he's the region's most reliable director of William Shakespeare."
"Deep and delightful…."
"Keen insight into the play's complex characters and deft staging."
"Victoria Janicki's youthful energy makes her an ideal Viola."
"Incisive and timely….a very special production."
"Pfeiffer and company bravely coax the play's seemingly contradictory shadings to coalesce into an experience greater than its disparate parts. "
"Pfeiffer and PSF's approach probes its melancholy characters' specific, sincere predicaments for their humanity. But it also highlights their humor and appreciates "the wind and the rain" in the play's beautifully rendered song. This combination is rare and wonderful."
The Reading Eagle
"Innovation awakens Pennsylvania Shakespeare Festival's perceptive production of 'Twelfth Night'."
"Directed with originality and keen wit by Matt Pfeiffer."
"Inventively staged…"
"Gifted with an unexpected intimacy."
"Feste (Eric Hissom, quite wonderful)…is the evening's master of ceremonies."
"Hilarious…joyous…brilliant."
"Simple but effective set design."
"Gorgeous and astute costumes."
"Theatrical excitement…"
The Morning Call
"Playful, smart and wonderfully satisfying."
"Victoria Janicki is wonderful as Viola."
"Kudos to costume designer Olivera Gajic for these wild fashions."
"Greg Wood is excellent as the stuffy Malvolio."
The Lehigh Valley Press
"A kind of thespian trampoline."
"An actors' lab of humorous asides, slow-burns and quick wit."
"Tossed between the two worlds of the silly and sublime."
"Victoria Janicki, playing a duality so beautifully."
Features & Press Releases
Artists
CAST
ALEX BECHTEL*
Music Director, Composer, Sound Designer, Sir Andrew Aguecheek
AKEEM DAVIS*
Duke Orsino
SCOTT GREER*
Sir Toby Belch
ELEANOR HANDLEY*
Olivia
ERIC HISSOM*
Feste
VICTORIA JANICKI*
Viola
SUZANNE O'DONNELL*
Maria
GREG WOOD*
Malvolio
GUILLERMO ALONSO
Antonio, Seacaptain
ANELISE DIAZ
Olivia's Lady in Waiting, Musician, u/s Olivia
DANTE GREEN
Musician, Associate Music Director
STEPHANIE HODGE
Ensemble, Musician, Assistant to Director, u/s Viola
AMY ROSE JOHNSON
Fabian, Musician, u/s Maria
ETHAN LARSEN
Curio, Officer, u/s Malvolio
JAHZEER TERRELL
Sebastian
JHALIL YOUNGER
Valentine, Officer 2, u/s Sebastian
ARTISTIC TEAM
PATRICK MULCAHY
Producing Artistic Director
DENNIS RAZZE
Associate Artistic Director
CASEY GALLAGHER
Managing Director
MATT PFEIFFER
Director
STEVE TENEYCK
Scenic and Lighting Designer
OLIVERA GAJIC
Costume Designer
ALEX BECHTEL*
Music Director, Composer, Sound Designer, Sir Andrew Aguecheek
J. ALEX CORDARO
Fight Director
MAGGIE DAVIS*
Production Stage Manager
ESTI BERNSTEIN*
Assistant Stage Manager
LAURA STANCZYK, CSA
New York Casting
*Member of Actors' Equity Association, the Union of Professional Stage Actors and Stage Managers in the United States.