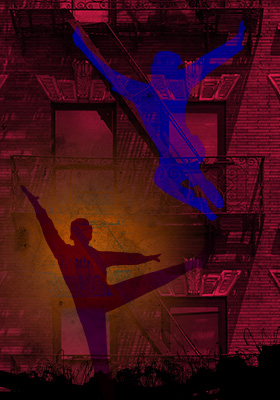 Legendary Musical
Based on a conception of Jerome Robbins
Book by Arthur Laurents
Music by Leonard Bernstein • Lyrics by Stephen Sondheim
Entire original production directed and choreographed by Jerome Robbins
Inspired by Shakespeare's Romeo and Juliet
Originally produced on Broadway by Robert E. Griffith and Harold S. Prince by
arrangement with Roger L. Stevens
Directed by Dennis Razze
JUNE 15 – JULY 3 | MAIN STAGE
Legendary choreographer-director Jerome Robbins envisioned a modern day version of
Romeo and Juliet set in the racially charged streets of New York City. The incomparable
jazzy and lyrical score, romantic and haunting lyrics, and magnificent script beautifully
capture the fires of young love and fierce tribal passion—all perfectly synthesized
by the athletic lyricism of Robbins' unforgettable dances. Genius. One of America's
groundbreaking and most enduring musicals with songs and scenes like Tonight, Maria,
America, Cool and Somewhere. Associate Artistic Director Dennis Razze, who directed
last season's highly lauded production of Les Misérables, will direct, and Stephen Casey
will recreate Robbins' spectacular choreography. PG10.
PSF expects the majority of performances to sell out. Order early for best seat options.
Extras
Opening night, Friday, June 17. Join the PSF actors and staff for a friendly post-show champagne toast.
Meet the actors for an informal talk-back after the show Thursday, June 23 and 30.
Dinner with Dennis and Deb: specialty dinner themed to the play with behind-the-scenes insights Saturday, June 25 and Wednesday, June 29, 5:30pm.
Explore
The Reading Eagle, George Hatza
"…A  whirlwind of emotion: love so strong it rattles the theater…
"This flawless production seems to fly to its conclusion, as if time itself has become irrelevant.
"A good production of 'West Side Story' is a rare commodity. But the PSF's
mounting is not just good, it's dazzling, utterly heartbreaking and best of all, unafraid of taking artistic risks.
"I've never seen a more nuanced, convincing Tony than Colby's, a sweeter and finally bolder Maria than Grisso's. Playing Bernardo, the leader of the Sharks, the Puerto Rican gang, and also Maria's brother, Charles South finds that place where machismo and vulnerability share the same space. It's a breathtaking turn.
"Jerome Robbins' original choreography has been restaged by Stephen Casey so rapturously that it moves one to tears."
The Philadelphia Inquirer, Julia M. Klein
"Pennsylvania Shakespeare Festival's elegant production of West Side Story has a ripped-from-the-headlines feel.
"Anita's … celebration of her new life in "America" is a combustible tour-de-force of dance, song and acting…."
The Morning Call, Kathy Lauer-Williams
"As exciting and visually stunning as it is heartbreaking.
"Breathtaking dance drawn from Jerome Robbins' original choreography fills the stage with electricity."
"There is a feeling that these young people are ready to explode with energy, and their dancing expresses that exquisitely.
" As Tony, Austin Colby … shines on the reverent 'Maria' and anticipatory 'Something's Coming.'
"Maria is played by the diminutive MaryJoanna Grisso…. Her voice… soars on the playful 'I Feel Pretty' and impassioned 'I Have a Love.'"
Lehigh Valley Press, Paul Willistein
"PSF production of 'West Side' … is Broadway-caliber on every level. It gleams like a switchblade.
"Brilliant"
"A sizzling example of stagecraft of the highest order by top-notch actors"
DC Metro Arts, Tim Dunleavy
"Director Dennis Razze's production crackles with vitality from its first scene.
"…A haunting dramatic power."
Newsworks/WHYY, Howard Shapiro
"Soaring… gorgeous theatre."
Features & Press Releases
Artists
CAST
LEONARDO ALTAFANI
Anxious
JULIAN ALVAREZ*
Pepe/Bernardo u/s
MATT AUGUSTYNIAK
A-rab
CHRISTINE BAGLIVIO
Margarita
JUSTIN BERGSON
Baby John
EDGAR CAVAZOS
Chino
AUSTIN COLBY*
Tony
CORINA RAINE CONNELLY
Anybodys u/s
NOELLE CYBULSKI
Pauline
KELSEY DENAE*
Rosalia
KARLI DINARDO
Anita
BRENDAN DOYLE
Glad Hand
JOSEPH FIERBERG
Big Deal/Action u/s
GABY GAMACHE*
Consuela/Anita u/s
ISABEL GARCIA
Estella
JORNE GILBERT
Moose
TARYN GILBERT
Francisca
MARYJOANNA GRISSO*
Maria
BROOKE HARRSCH
Clarice
MICHAEL JOHN HUGHES
Indio
CAILEIGH IDELL
Female Swing
GERARD LANZEROTTI
Action/Riff u/s
NATHAN MADDEN*
Riff
DANE McMICHAEL
Mouthpiece, Male Swing
KENNETH MICHAEL MURRAY
Gee-tar
FELIX OMAR
Luis
TAYLOR RECKTENWALD
Diesel
EMILY ROYSTON
Velma
EMMA SANTSCHI
Anybody's
ANDY SAVAGE
Snowboy/Tony u/s
DAVE SCHEFFLER
Officer Krupke
KYLE SCHUMAKER
Toro
CHELSEA MARIAH SOTO
Teresita/Somewhere Soloist/Maria u/s
CHARLES SOUTH*
Bernardo/Dance Captain
EMMY SPAAR
Minnie
ALISSA TUCKER
Graziella
JOE VINCENT*
Doc
WILLIAM ZIELINSKI*
Lt. Shrank
ARTISTIC TEAM
JEROME ROBBINS
Original Choreography
ARTHUR LAURENTS
Book
LEONARD BERNSTEIN
Composer
STEPHEN SONDHEIM
Lyricist
DENNIS RAZZE
Director; Associate Artistic Director, PSF
STEPHEN CASEY
Choreographer
NATHAN DIEHL
Musical Director/Conductor
MICHAEL MCDONALD
Costume Design
STEVEN TENEYCK
Scenic Designer
ERIC T. HAUGEN
Lighting Designer
IAN P. CARR
Sound Designer
MICHAEL ROSSMY
Fight Director
ARIANNA KNAPP
Projection Supervisor
CORY BOULIERIS*
Production Stage Manager
CAROLYN REICH*
Assistant Stage Manager
*Member of Actors' Equity Association, the Union of Professional Stage Actors and Stage Managers in the United States.